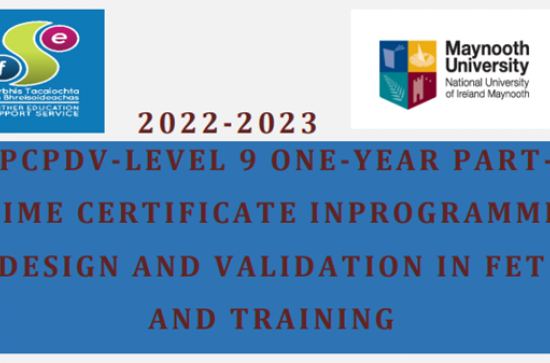 Sunday, April 10, 2022 - 18:00
Almost 5,000 Further Education and Training (FET) courses will need to be updated and revalidated in the next 5 years. This will require knowledge and practice in programme design and validation in every ETB, FET-related agency, among managers, teachers, and trainers.
The Department of Adult and Community Education in partnership with the Further Education Support Service (FESS, https://www.fess.ie/) will recruit for the one-year part-time blended learning level 9 course to start in September 2022 (See 2022-23 MU_PDVFET_Course Brochure Final.pdf (maynoothuniversity.ie)). Course participants engage in course design theory and practical programme design learning. Past course students, often in small groups, have designed courses in outdoor pursuits, in educational progression, in employment and environmental responses, in music, crafts, etc. A number of the programmes designed on the course have, with the support of the ETB director or agency team, finalised their validation application to QQI and some have completed their journey to validation.
The course team welcomes applicants for this academic year through an ETB FET or professional development director, or directly to Michael Kenny, Course Director at the Programme Design and Validation in Further Education and Training email address fetpdv@mu.ie, (01) 708 3752, or text/call 087 2549540.