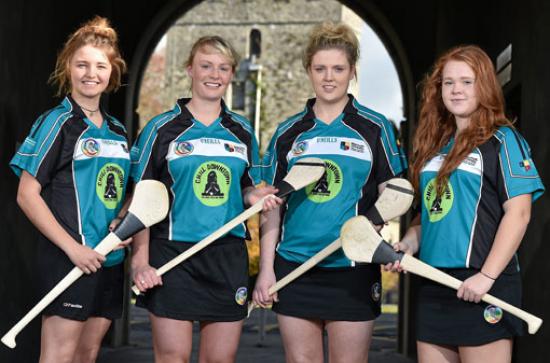 Monday, February 16, 2015 - 00:00
Maynooth University 2-10
Queens University Belfast 2-7
Purcell Shield Final
Maynooth University Camogie Team held their nerve to edge past Queens University Belfast in a gripping Purcell Shield final in DCU Sportsground on Saturday afternoon.
Leading by seven points midway through the second period it looked as if Maynooth were well on their way to take the honours but they were rocked by two quick-fire goals from the Northern women. The game was back up for grabs but it was Maynooth who pushed on, and points from Catriona Murtagh and captain Claire Kennedy put them beyond the reach of Queens to ensure victory at the final whistle.
Queens started brighter and a free from Bronagh McGillian gave them an early lead, but Maynooth soon hit the front when Ciara McGuigan was in the right place at the right time to flick a loose ball to the net from close range.
Kennedy added to the lead with a free within a couple of minutes and she had another fine point from play midway though the half. That score was sandwiched by two McGillian frees as Queens kept in contact though the full forward's free taking ability and the Derry girl exchanged points with Maynooth captain Kennedy to leave two points between the sides with five minutes of the half remaining.
Cheyenne O'Brien got in on the scoring act with a cracking point from play as the interval loomed, but there was still time for Queens to tack on points through Dervla O'Kane and McGillian to leave the minimum between the teams at the break, 1-4 to 0-6.
Maynooth University opened the second half in a hurry and Sarah Ann Quinlan and Kennedy lofted over points to add to their advantage. Catriona Murtagh then got her hurl on a breaking ball in the Queens square to put six points between the teams after eleven minutes of the half. Kennedy drove over another free to increase that lead further and at that stage it seemed as if Maynooth were about to kick for home.
Queens refused to allow that happen though and Kathryn Donnelly pounced to drive a crossfield pass to the net. Just two minutes later Colleen Clarke raised another green flag when she struck a rebound from McGillian's penalty through a forest of legs on the Maynooth line. Just a single point seperated the teams and with ten minutes of normal time remaining the momentum was with the Ulster side.
Maynooth rallied though and Murtagh struck a vital score followed quickly by another Kennedy free. Máiriosa McGrourty hit back with a free for Queens but Kennedy responded to keep a crucial three point cushion for Maynooth. Queens laid siege to the Maynooth defence in the final minutes but a heroic defensive effort kept them at bay and after what seemed an eternity, the final whistle sounded to confirm Maynooth University as champions.
Maynooth University Camogie Panel: Kate Whyte, Amy Dillon, Kate Nolan, Ellen Burke, Niamh Hegarty, Aisling Curtis, Louise Doran, Ciara McGuigan, Laura Manley, Anna Whitty, Sarah Ann Quinlan, Cheyenne O'Brien, Catriona Murtagh, Deirbhile Byrne, Claire Kennedy. Replacements; Ali Ruschitzko for Whitty. Orla Byrne, Emily Rose Byrne, Lorna Sexton, Mary Ellen Doyle, Michelle Molloy, Darina Callanan, Olivia Hickey, Sian Millar, Ailbhe Ryan, Kim Deens, Hannah Walsh, Catriona Egan, Maria Bergin, Mairead Whelan, Sinead O'Keeffe, Kate Lawlor, Ciara Finn, Ciara Donohue.
Team Management: Davy Troy, Cristina Troy, Mark Cooney.
Match Report: Cormac O'Malley