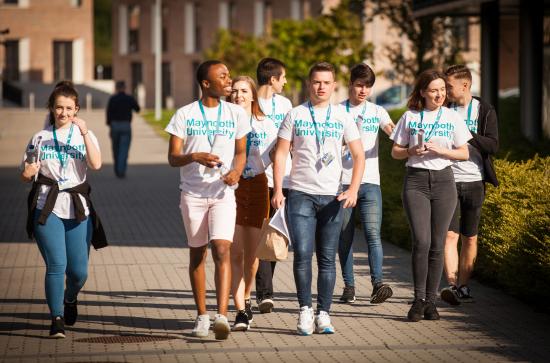 Friday, September 7, 2018 - 09:15
On Saturday, 8 September, Maynooth University will welcome more than 700 students who will register for its Launchpad orientation programme which aims to ease the transition for new students from under-represented backgrounds to university life.
Students attending Launchpad are often the first in their families to go to third level and have entered Maynooth through the HEAR (Higher Education Access Route), DARE (Disability Access Route to Education), further education and training, or the entry routes for mature students.
The transition to higher education is challenging for all students but can be particularly acute for students from under-represented backgrounds.

The new students will be joined over the weekend by 800 of their supporters so they enter university life in a supported and friendly setting. At least 80 undergraduate student ambassadors will deliver the bulk of the orientation programme, which runs from Saturday, 8 September to Monday, 10 September.
Maynooth University is proud to be the most diverse university in Ireland. Mature students, students with disabilities and students from socio-economically disadvantaged backgrounds consistently account for a greater proportion of Maynooth's undergraduate population than any other Irish university.
This year's Launchpad attendees account for almost 30% of all new entrants to the university. The university has the highest proportion of students in receipt of a SUSI grant in the university sector – 49% in comparison to DCU at 36%, UCD at 28% or TCD at 24% for example.
Institutional research shows that the academic attainment of students of Maynooth University students from under-represented backgrounds is at least comparable with their undergraduate peer group.
For example, at 10%, Maynooth has the second lowest non-presence rate amongst the seven Irish universities. The non-presence rate is defined as the percentage of new entrants who are not present in the university the following year.
Maynooth University's Access Programme was established in 1998 to increase the numbers of students from under-represented backgrounds getting to and through university. Over the years it has become viewed as a national model for widening participation. The vision of the Programme is to develop a student body in Maynooth that reflects the diversity of Irish society.
Programmes like Launchpad play a critical role in supporting student progression and retention.
How does Launchpad and Access Programmes help ease the way to university life? Here are some student experiences:
Anthony Barrett is a single parent who had just recovered from a serious illness and decided to re-enter education via a general studies course in Leixlip KWETB. There, he first engaged with the Maynooth University Access Programme (MAP). He has now completed his second year as a mature student studying a Bachelor of Social Science Degree (BSocSc), specialising in social policy and sociology.
For Anthony, being a single parent was the most worrying aspect to attending university and threw up several questions that many parents and mature students have: How would his personal circumstances such as having a child in secondary school affect him and could he afford it? Would he have what it takes and meet the academic requirements? The MAP team working on an outreach basis in Leixlip KWETB eased those fears and helped make that progression a reality.
Anthony said: "The most important thing for me was knowing there was a group of people in the university that had my back. I came through an education system that saw no need to encourage or inspire a working class kid from Finglas, Dublin, to go to university or have a career. Not only were we not encouraged, but we were told that we were not good enough to aspire to those things."
:

Anthony's choice of subjects included economics and sociology to complement his core subject of social policy. As part of the second year elective programme he chose community education as a special subject.Anthony is now progressing into his third year.
Ryan Lynch came to MU last year to study computer science. He had recently been diagnosed with a long-term illness and also had all of the worries about how he could afford university.
"I barely made it through secondary school and I didn't believe I would be able to cope in university. I had applied to both the HEAR and DARE schemes, but still didn't believe they could do enough to help. When I received the email from the Access Office, on the day my offer came through for computer science and software engineering, I was sure I wasn't going to take my place, I didn't think university was the place for people like me."
But the email included an invitation to Launchpad, and to a meeting with one of the MAP staff. Ryan went into the meeting thinking he would just outline his circumstances and why he wasn't going to take his place in the course.
"When I met one of the MAP team, I gave a list of the problems I had, and was given a solution or directions to a solution for every problem. For my financial worries, I was told about the Student Budgeting Advisor who informed me of all the assistance available and helped me to work through my finances to see what could be done to accommodate the huge list of college expenses. I felt so much more prepared for coming into university after a meeting with her."
Even after sorting through much of his financial worries, Ryan still had many questions before attending Launchpad. Is college the place for him? Will he be seen as different for coming through HEAR or DARE?
"Launchpad allowed me to meet some of the MAP Ambassadors who had come to university through the same routes as I had. They gave me so much good advice about everything, from saving money to the best places to eat. They were some of the nicest people I know."
Ryan enjoyed Launchpad so much that he told the ambassadors that he would be coming back next year as one of them, and he stuck to it. "I was inspired by the other students who showed me how friendly the university is. By the end of Launchpad I already felt at home, like I belonged."
Ryan is now heading into second year of computer science and to quote him: "I can't wait to see where things will go from here."

Karen Herdman from Kildare was a stay at home mum with two young sons and is now a lecturer in chemistry in MU, having successfully completed her PhD. She returned to education by enrolling on the Certificate in Science course in MU in 2007. She was interested in taking the Bachelor of Science degree in psychology through science.Karen had been told that the Foundation Course would give her an automatic place on the Bachelor of Science degree if certain grades were reached.
"I was interviewed for the course and decided to strike while the iron is hot. I did a maths introduction course with the Maynooth University Access Programme during the summer and started the Certificate course in September. The Foundation course was of great importance to me. It gave me the confidence to know that I could return to third level education and complete it successfully. Having met similar mature students and become friends it was less daunting to start an undergrad degree with hundreds of kids. Also getting to know the lecturers from the various departments was very advantageous."
In her first second and third year, she earned first honours in all subjects and was awarded first prize for the highest overall chemistry laboratory marks. In her second year, she was additionally awarded first prize for the best marks in chemistry, and first prize for the highest mark in psychology through science. She was awarded the Kathleen Lonsdale prize for the best First class degree for single honours chemistry in her fourth year and a prize for outstanding achievement in the field of electrochemistry.
"The Certificate course taught me how to manage my time between home and study. It also showed me how to approach exams. It gave me confidence in my ability to continue studying," she said.
Karen is now on the teaching staff of the Department of Chemistry and is the Department's MAP Academic Advisor, supporting current undergraduate students who come from under-represented backgrounds.
Find out more information on Launchpad and Maynooth University Access Programme.
For further information read: