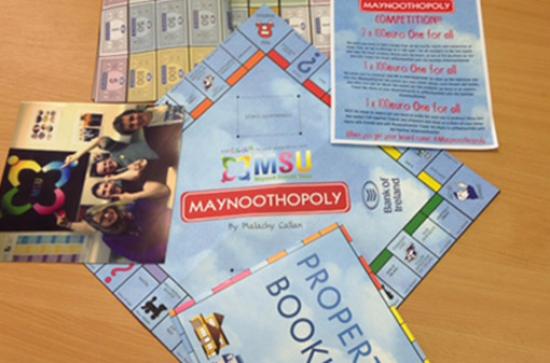 Friday, May 23, 2014 - 00:00
Maynooth Students' Union (MSU) unveiled their own version of Monopoly, 'Maynoothopoly' this week for Maynooth University students sitting their exams. The initiative promotes positive mental health during the exam period and is the culmination of an ongoing mental health campaign by MSU

A limited number of bespoke boards were created by MSU Vice President Malachy Callan featuring well-known venues throughout the university campus and Maynooth Town, and a teaser video was released encouraging students to tweet "#Maynoothopoly" to be in with a chance of receiving their own board.
The customised monopoly boards were distributed free of charge and given out on a first come, first served basis. Students received the board, a property guide, user manual, the all important Maynoothopoly money and witty Chance & Community Cards. However students have to use some creativity of their own for the houses, hotels & playing-tokens required to complete the game.

The opening page of the user manual encourages students:

"...In all the bustle and commotion of college you need moments of clarity, happiness and joy. Use this to bring your friends together and celebrate Maynooth, celebrate that you've gotten this far! If you notice anyone who appears left out bring them in and invite them to play! Look out for yourself and those around ya!"

Ben Finnegan, MSU President was delighted with how it was received: "The feedback so far has been incredible. Maynooth Students' Union prides itself on being central to student life here at Maynooth University and it is easy to say that initiatives like Maynoothopoly by MSU will have a key part to play in our aim at making Maynooth the best place to be for third level education".
The lucky recipients of #Maynoothopoly are now being encouraged to enter a number of competitions with their boards, and showcase the creativity of Maynooth University Students.