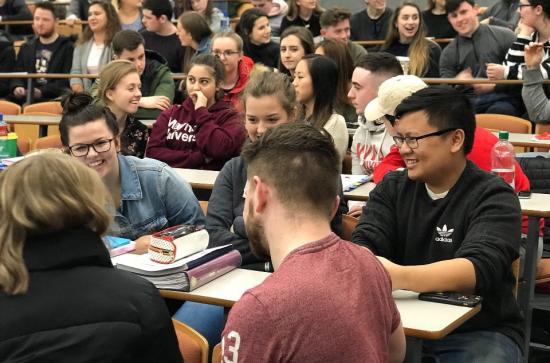 Monday, October 21, 2019 - 15:00
Opinion: interaction between students and lecturers can have a surprising pay-off for both parties
By Christina O'Connor, Denise Luethge, Northern Kentucky University and Gillian Moran, Maynooth University
With a new academic year underway, students and lecturers alike are acclimatising to demanding timetables, new faces and large class sizes. In Ireland, third level student numbers are on the rise year after year leading to class sizes that regularly enter the hundreds.
In a lecture theatre of 500 people, it is easy for students to feel as if they are just another face in the crowd. There is a shared belief among students that they can blend into the background in third level education, making themselves anonymous and almost "invisible" in large classes. This represents a voluntary exclusion by sitting at the back of the room, not speaking up in class and never talking to their lecturers.
While some are most comfortable sitting back and taking it all in – happy to let their peers ask questions, provide answers and engage in class discussions - these students are missing out through their voluntary exclusion. They are less engaged with the content of their courses, less engaged by their lecturers, and benefit less from the learning process. For lecturers. it can be frustrating when students opt to disengage, and many retreat into traditional lecturer mode providing course content to a room of faceless students.
But what if both students and lecturers choose a more inclusionary path. Can we enhance the third level educational experience by reconnecting students and lecturers? Is it possible to bring personalisation back into the lecture theatre through something as mundane as knowing our students' names? Both students and lecturers have a joint responsibility to engage better with one another in order to enhance the third level education experience for all.
It can be easy to forget that the adjustment to third level is a stressful time for students. Lecturers must recognise this and do their bit to facilitate and accommodate this transition. Our current students are largely from Generation Z, which The Economist characterises as "more educated, well-behaved, stressed and depressed". They spend more time online than their predecessors, connecting with friends and conducting social interactions behind their screens via their devices, and are less comfortable face-to-face.