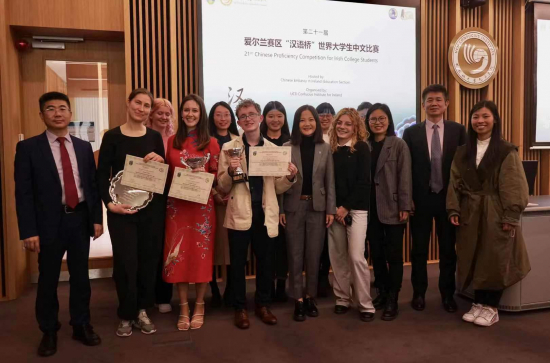 Tuesday, April 26, 2022 - 18:00
The 2022 "Chinese Bridge" - Chinese Proficiency Competition for Irish College Students was held in Dublin on 24 April 2022. The event was jointly hosted by UCD Confucius Institute and Irish Institute for Chinese Studies at UCD. This yearly competition aims to stimulate the enthusiasm of young students from all over the world to learn Chinese language, which has built a bridge of communication between China and the world.
Nineteen college students from Dublin, Cork and Maynooth participated in the event. The competition includes two rounds. In the preliminary round, students gave a 90-second self-introduction and a 2-minute talent show. The top eight contestants selected by the judges entered the final round. Each finalist delivered a 2-minute speech on the topic of "One World One Family", followed by a Q&A session and a 5-minute talent show.
Joseph Clarke, a final year student from Maynooth University Chinese Studies won the third place in the final round. Congratulations to Joseph!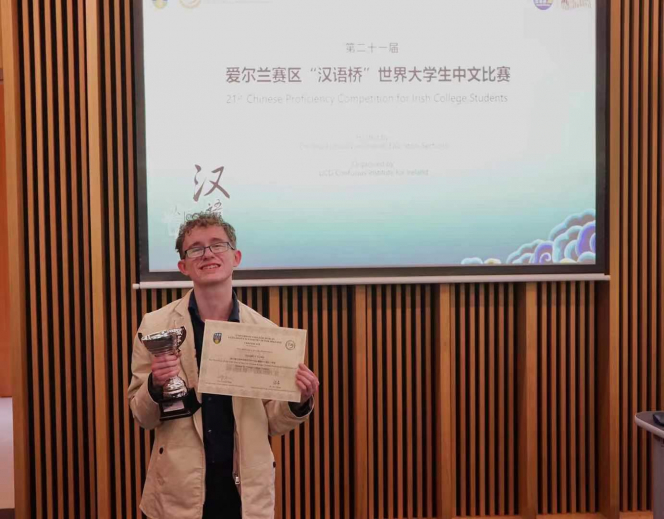 L to R: MU Chinese Langauge Teacher Xinan Sun, Language Tutor Fengling Wang, Dr. Meishan Zhang, Joseph Clarke.