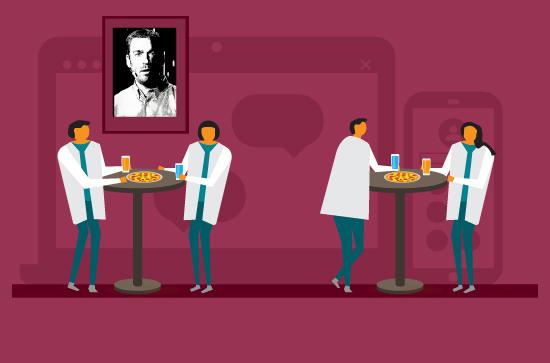 Thursday, November 14, 2019 -

18:00

to

19:30
Eolas Building, North Campus
Registration for this event has now closed.
Register here and we'll keep you posted about other great events like this.
**********************************************************************************************
The Maynooth University Development and Alumni Relations Office presents:
A Conversation with Des Traynor '03, Co-Founder & Chief Strategist, Intercom
Just how does a Maynooth grad create a home-grown billion-dollar tech "unicorn"?
Join us for a special Maynooth Alumni 'In Conversation' evening on Thursday, 14th November, when Des Traynor (BSc 2003) reflects on his journey from MU to Silicon Valley.
After co-founding tech company Intercom with fellow MU alumnus David Barrett '03 (and two others), Des has elevated the industry-disruptor messaging platform to unicorn status, becoming one of only 200 start-ups worldwide to be valued at more than $1billion.
Delving into that journey, Des's MU Computer Science grounding, and everything in between will be fellow Maynooth grad Andrew Parish (BSc 1991), a self-confessed entrepreneur, founder, CEO, investor, board member and business mentor.
If you've an entrepreneurial streak, are interested in the future of tech for business, where your CS, Engineering or Business degree might take you—or are just plain curious about the global ascent of Intercom, this evening is for you.
Join us for a beer, bites and a rare chance to hear informally from one of MU's most successful tech graduates, Des Traynor.
Taking place at MU on Thursday, 14 November at 6pm, this is one of a number of public events offered at MU (MU Science Week Events) as part of National Science Week (10-17 November)
Alumni - Please register for this free event here
Students and members of the public: You're very welcome to attend. Email alumni.events@mu.ie or call us on +353 1 7086492.
More about:
Intercom,
Employing about 600 people in five offices around the world—with over 30,000 customers including Sotheby's, Spotify, New Relic and Shopify—Intercom is the world's first customer messaging platform for businesses to accelerate growth across the customer lifecycle. The company has been called "the next-generation Salesforce," offering a digital take (including customizable "chatbots") on a timeless problem: improving businesses' interactions with potential or existing customers. Its Dublin Office on St Stephen's Green is the hub for most of the company's engineering operations.
Des Traynor '03,
Des graduated from Maynooth University in 2003 with a first class honours degree in Computer Science and Software Engineering and enrolled after in a PhD studying Automated Assessment for Computer Science 101 for a few years but took some time out. After a brief career as a consultant designing web applications for Silicon Valley startups, he co-founded software startup Intercom in 2011 with David Barrett (also ex-Maynooth), Eoghan McCabe, and Ciaran Lee. In the time since Intercom has grown to become a 600-person company with 5 offices worldwide and is valued at over one billion dollars. He still dreams of one day finally finishing his PhD :)

Andrew Parish '91,
Andrew is a serial entrepreneur and startup founder. He is currently Chief Commercial Officer with the IDLF Investment Fund and Venture Partner with The StartupFund. He serves on a number of early stage technology company boards and is director of Startup Ireland. He graduated from Maynooth in 1991 with a BSc and has post-graduate qualifications in Management and Business Strategy. Andrew recently joined the Maynooth University Foundation Board.