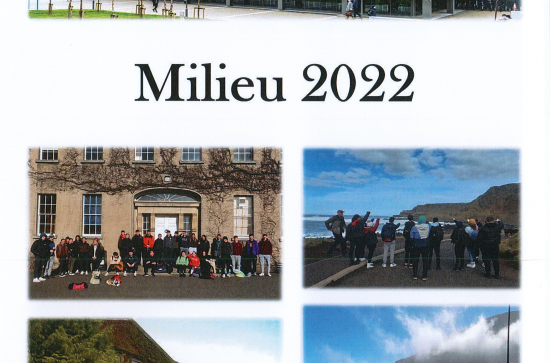 Friday, May 6, 2022 - 13:00
What better way to mark the fiftieth anniversary of Maynooth University Department of Geography than to announce the publication of the biggest ever Milieu in the Department's history. Milieu 2022 This year's issue – the 44th edition of Milieu – runs to 132 pages, surpassing the record set by Milieu 2021 by a whopping ten pages (that's an increase of 8.2% in percentage terms stats fans). In addition to the editorial team (as well as the Student Geography Society), we have had contributions from 36 different people, including Staff members and our wonderful Past Students community, but most of the contributions came from our undergraduate students (and especially Final Year Geography students). This is good to see! As the journal of the Student Geography Society, Milieu should represent the student community and, hence, should represent the high-quality work that our students have produced over the past academic year, and this is very much the case this year! For many of our contributors, this will be the first time they will have ever seen their own (academic) work in published form and hopefully this will encourage them to think strongly about further work in research, writing and academia, no matter where their future paths lead then.
Each Milieu is only as good as the contributions that we received for it and there would be no Milieu 2022 if a number of people had not taken the time – and also taken courage! – to put their work forward for publication. Ailbhe, Aisling, Aodhán, Caoimhe, Chris, Ciaran, Cody, Daniel, Emma, Eoghan, Ivan, Jake, James, Katie, Leo, Michelle, Naoimh, Natalie, Nathan, Niamh, Ronan, Shane, Susan and Tomás, we thank you for your time and your efforts, and indeed for the quality of the work that you submitted for Milieu 2022. And we also offer especial thanks to all our Past Students – Annemarie, Arlene, Darragh, Eibhlín, Eoin, Ethan, Jennifer, Leila, Orla, Rachel, Rebecca, Sinead, and Tim – who took the time to contribute to our article on past student careers after leaving Maynooth Geography. New Milieu, new stories!
A few words on this year's Geography Society. Congratulations to the very active, inventive, and creative Committee on a fantastic year. After some very quiet and inactive years, they made the Geography Society relevant, vibrant and – dare we say it – a lot of fun once again. Hopefully, students in Years 1 and 2 this year will come forward next year to play roles in the Society and build on the successes of this year.
Finally, a BIG THANK YOU to the other (and the most important!) member of the Milieu 2022 editorial team, Dr. William Durkan, who – for the third year running – put in a Trojan effort to get all the submissions into published form in a very short period of time (and while juggling other demands on his time, including lectures/classes and…gulp…grading). As people who know him will attest, there is no job too big or too small for William, and whatever he does he does well (and quickly!). Without William's efforts, Milieu 2022 would not have looked so good, and we might not have seen this come out until sometime in August. Thank you, William!
Hopefully you will also enjoy reading this year's Milieu, which was officially launched in the Rocque Lab on Wednesday 4th May (2022). It was great to see some of the Milieu 2002 contributors there on the day and thank you to all who turned up.