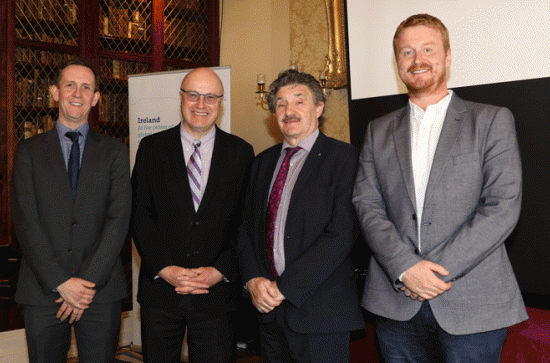 Wednesday, April 25, 2018 - 14:00
Minister of State for Training, Skills and Innovation, John Halligan, TD, has announced an investment of €896,000 for two early career researchers at Maynooth University.
Dr Conor Murphy from the Department of Geography has been awarded €487,000 to develop seasonal hydrological forecasting for Ireland; and Dr Andrew Parnell, who will join the Maynooth University Hamilton Institute in June 2018, has been awarded €409,000 for industrial supervised learning.
Widespread floods in November 2009 and December 2015, together with growing pressures on water resources, highlight the need to invest in developing seasonal forecasting approaches to inform strategic management of water in Ireland. Dr Murphy's research will leverage and advance significant recent developments made in this area internationally by benchmarking approaches to seasonal hydrological forecasting for Irish catchments.
The twin disciplines of statistical and machine learning have led the 'big data' revolution. With only the basics of programming knowledge, anyone can take a large data set and create a predictive model. However, these standard prediction models perform poorly for many common problems faced by industry. Dr Parnell's research project will develop four different extensions of the standard toolkit for specific situations, each of which is a PhD project, and includes backing from several industry partners. The outputs of each project will be licensed to these partners to enable them to compete better on the international stage.
The awards are part of €13.7 million investment in 22 early career research awards funded through Science Foundation Ireland's Career Development Award Programme, which supports Ireland's research talent pipeline by funding excellent researchers still in the early stages of their scientific career.
Announcing the awards, Minister of State for Training, Skills and Innovation, John Halligan, TD, said: "The awards announced today demonstrate the impressive cutting-edge research taking place in the universities across Ireland. The Science Foundation Ireland's Career Development Awardees are the future leaders of research and innovation in Ireland. Through their promising work, they will continue to shape our research community, and generate positive impacts at a national and global scale. I believe that the important projects receiving funding today will advance Ireland's economy and society, and further solidify its reputation as a world-leader in scientific advancements."
Commenting on the awards Professor Mark Ferguson, Director General of Science Foundation Ireland and Chief Scientific Adviser to the Government of Ireland, stated: "Science Foundation Ireland supports researchers at every stage of their careers. The Career Development Awards are a superb reflection of our investment in early-career researchers who display great potential and lead projects of major impact. This Programme helps those researchers develop the skills and experience necessary to lead Ireland's future research in areas such as health, energy, materials and technology. The projects have been selected following a rigorous competitive international merit review process. I look forward to witnessing the positive impacts that these projects will have for Ireland and wish each awardee every success in their continued scientific research and careers."