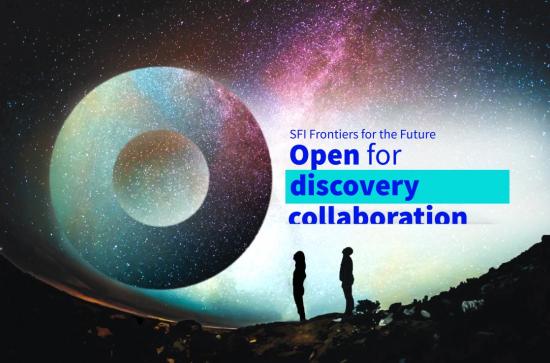 Monday, November 2, 2020 - 11:45
Two Maynooth University researchers, Dr Arman Farhang and Dr Brian Hennelly, have been awarded funding as part of the Science Foundation Ireland (SFI) Frontiers for the Future Programme.
Maynooth University is among 71 recipients of grants to support frontiers research across 12 Higher Education Institutions through Science Foundation Ireland, announced today by Minister for Further and Higher Education, Research, Innovation and Science, Simon Harris, TD.
The MU researchers who are based at the Department of Electronic Engineering and the Hamilton Institute are developing new data transmission and receiving technologies, to improve links for applications such as vehicles in future wireless networks, contributing towards a safer, smarter, and highly connected society.
The research project of Dr Bryan Hennelly is titled, 'Label-Free Flow Cytometry using Broadband Coherent Anti-Stokes Raman Spectroscopy', and Dr Arman Farhang's project is titled, 'New Waveforms for Next Generation Wireless Networks (NEW WAVE)'.
Commenting on the overall programme, Minister Harris said: "Congratulations to all the researchers who have received funding today as part of the SFI Frontiers for the Future Programme. I am delighted to support this programme which funds individual-led research, with an emphasis on areas of high-risk, high-reward, which will help us build a better future for Ireland through discovery, innovation, and impact."
"I am pleased to see the successful outcome of the new gender initiative that sees 45% of the research grants announced today led by female researchers. The funding will support researchers who are already carrying out excellent work in Ireland, as well as those in the early stages of their research careers who hold incredible potential. It is through investment like this that Ireland will become an innovation leader and provide solutions and opportunities for our society and economy."
The 71 research grants will support areas such as spinal cord injury, novel materials, climate change, biodiversity in food production and waste, smart manufacturing, social connectivity, computer graphics, horse breeding, pharmaceutical manufacturing, and information security.
Further information on the SFI Frontiers for the Future Programme is available here: https://www.sfi.ie/funding/funding-calls/frontiers-for-the-future/

The research will be undertaken in the following Higher Education Institutions - Dublin City University (DCU); Dundalk Institute of Technology (DkIT); Maynooth University; National University of Ireland, Galway (NUIG); RCSI, University of Medicine and Health Sciences; Teagasc; Technological University Dublin (TU Dublin); Trinity College Dublin (TCD); Tyndall National Institute (TNI); University College Cork (UCC); University College Dublin (UCD) and University of Limerick

SFI Frontiers for the Future Programme - Funding Overview
Working across 12 Higher Education Institutes, 231 research positions will be funded including 95 Postdoctoral scientists, 101 PhD students and 35 Research Assistants/others across a variety of different areas. The programme also sought to provide opportunities to address gender imbalance in line with SFI's Gender Strategy, 45% of the research grants supported will be led by female researchers. The programme was run in collaboration with the Geological Survey Ireland (GSI) and the Environmental Protection Agency (EPA). 38 industrial collaborators are engaging in the research programmes. The SFI Frontiers for the Future programme comprises two funding streams:
Projects – 45 high-risk, high-reward research projects will receive €25 million to facilitate highly innovative and novel approaches to research.
Awards - 26 larger scale innovative, collaborative excellent research programmes that have the potential to deliver economic and societal impact will receive €28m in funding.