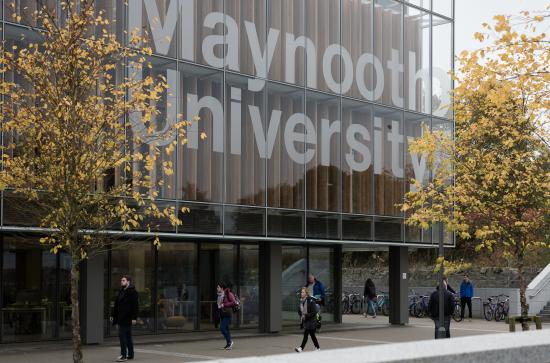 Wednesday, June 10, 2020 - 09:45
Maynooth University academics are leading diverse and innovative projects under the Government's Covid-19 research programme, coordinated by Science Foundation Ireland (SFI).

Announcing €1.4 million in 11 projects this week, the Minister for Business, Enterprise and Innovation, Heather Humphreys, TD, said: "I am delighted to announce this further investment in research and innovation related to COVID-19. These projects will address immediate priorities to assist us with the challenges we face as we seek to reopen our society and economy, and get the country running again."

This week's announcement builds on the investment of €3.5 million across 26 projects in April, under the COVID-19 Rapid Response Research and Innovation programme.
Maynooth University projects have received in excess of €600,000 in the two separate Government funding initiatives, to advance scientific expertise on the Covid-19 pandemic and to inform the reopening of society and the economy.
MU SFI Awards announced to date include:
Dr Tim McCarthy in the Department of Computer Science is leading a major project to develop a drone co-ordination and operations centre, and a platform to analyse data to detect where human activities could pose a risk to public health through the spread of COVID-19. The platform for emergency services aims to support local authorities, organisations and Government agencies to manage general movement and the easing of social distancing restrictions in public spaces.
A project led by Prof Sean Doyle, Biotechnology Programme Coordinator at Maynooth University, will develop two new tests for antibodies against SARS-CoV-2. The project will help to identify who has been exposed to the virus and who may have developed immunity to COVID-19. The tests will also help to find people with high levels of antibodies who can donate them to protect others. The consortium of expertise includes Dr David Fitzpatrick, Dr Rebecca Owens and Dr Ozgur Bayram, at the Department of Biology and the Kathleen Lonsdale Institute for Human Health Research. The Maynooth University led project is in collaboration with the Irish Blood Transfusion Service (IBTS) and National Virus Reference Laboratory (NVRL).
Prof Andrew Parnell will lead a team at the Hamilton Institute to generate computational tools to help Ireland predict the epidemiological (disease-related) and economic consequences of removing interventions during the path to recovery in the COVID-19 pandemic. The project will focus on putting rigorously-tested computational models for medium term forecasting in place that will enable the state to make evidence-based decisions about the impact of relaxing COVID-19 restrictions. The models developed in this project will forecast the likelihood of spatial spread of the disease as travel routes re-open. It will forecast the impact of testing for the virus at borders and of relaxing interventions of different types at home and abroad. It will also forecast economic recovery by mapping financial indicators from multiple countries. This will support a faster, safer recovery to normality.
Dr Fiona Walsh in the Department of Biology is partnering in a project led by Teagasc and the APC Microbiome Ireland Sequencing Centre to examine the genetic makeup of Covid-19 viruses circulating in Ireland. The research will allow experts to monitor genetic changes in the virus and quickly spot developments that could affect human health, treatment or vaccination against COVID-19.
Minister Humphreys said that the COVID-19 Rapid Response Research and Innovation programme complements existing research work underway in higher education institutions across the country.
The Rapid Response Research, Development and Innovation programme was established by Science Foundation Ireland, Enterprise Ireland, IDA Ireland, the Health Research Board and Irish Research Council.