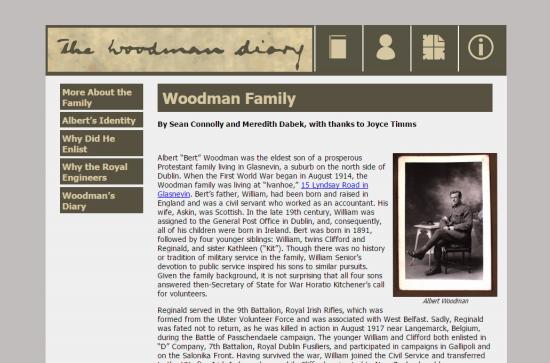 Friday, June 5, 2015 - 15:30
MA and PhD students in the Digital Scholarly Editing module offered by An Foras Feasa (AFF) will see the fruits of their research launched on Wednesday 10 June 2015. The Woodman Diary, a digital scholarly edition of an Irish World War I soldier's diary, was developed by students combining their skills and talents in a team-based approach to learning. This research-led module, taught by Professor Susan Schreibman, is typical of the modules offered as part of the MA in Digital Humanities.
The module combines theory and practice, giving students the opportunity to develop real-world skills from project management to text encoding, from interface design, to scholarly annotation. The interactive website features high-quality digital images of the diary, transcribed entries and annotations and notes, video interviews and background information on the Woodman Family.

The project centers around Albert Woodman, an Irishman of Anglo-Protestant descent, who was a signaller in the Royal Engineers stationed in Dunkirk, who wrote a diary for his wife, Nellie. The 274 entries, starting in January 1918 and continuing until just after the armistice, offer fascinating details about day-to-day life during the war. Joyce Timms, Woodman's granddaughter, generously provided the diary to An Foras Feasa for the project and, after the launch, will donate it to Maynooth University library, where it will then be made available for consultation.

The launch event on 10 June will feature author and historian Turtle Bunbury as a special guest speaker, as well as Professor Marian Lyons, Maynooth University Department of History, and Ms. Timms. The event will take place in the First Floor Seminar Room of the Iontas Building on Maynooth University's North Campus. A pre-launch preview of the diary, which will give guests the chance to view the project for themselves, will begin at 4 PM. The launch event itself will begin at 5 PM, and will be followed by a reception.
To register for the event, please visit our Eventbrite.
Both the MA Digital Humanities and PhD Digital Arts & Humanities are designed to introduce students to the theories and methods in digital humanities scholarship. The modules provide both a historical background and theoretical grounding to the field while providing students with solid skills in contemporary digital methods and technologies.