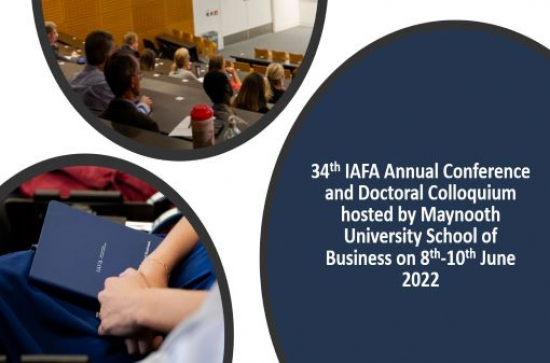 Wednesday, June 22, 2022 - 19:15
The 34th IAFA Annual Conference and Doctoral Colloquium was hosted by Maynooth University School of Business on 8th-10th June 2022. There was a great sense of happiness and camaraderie to be back in person after two years. The conference was organised and chaired by Dr Hilary Qualter, Maynooth University School of Business and was opened by Professor Peter McNamara, Head of Maynooth University School of Business.
The main conference was preceded by the Doctoral Colloquium on 8th June 2022, chaired by Professor Joan Ballantine, University of Ulster. Over 40 delegates attended this event which provided an opportunity for both current and prospective doctoral students to learn more about the research process, research methodologies and publishing academic work. In total, 16 current doctoral students presented their work and received feedback from experienced academics, who gave generously of their time for this event.
There were two keynote speakers at the IAFA Doctoral Colloquium this year. Professor Ingrid Jeacle, University of Edinburgh presented on the topic of "Netnography Research and Publishing Tips." Professor Beatriz García Osma, Universidad Carlos III de Madrid gave "Advice on Publishing/Negotiating the Publishing Process in Accounting Journals."
Over 100 delegates attended the conference on 9th- 10 June. The keynote conference address was given by Professor Mark Clatworthy, University of Bristol, President-elect of the European Accounting Association (EAA). The title of his talk was "Are Intangibles making accounting irrelevant?"
During the conference, 36 research papers were presented by academics on many areas of accounting and finance including accounting education, AI, board reporting, financial risk, governance, pensions, performance management and sustainability. The presentations were insightful, stimulating and well received.
The "meet the editors' session" was another highlight of the conference this year. A panel of editors introduced their publications, gave advice on how to write papers for successful publication, and highlighted common pitfalls to avoid. The panel consisted of:
Professor Sheila O'Donohoe Co-Editor of the Accounting Finance and Governance Review
Professor Greg Stoner Editor of Accounting Education
Professor Mark Clatworthy Joint Editor of Accounting and Business Research

The conference dinner took place at the Glenroyal Hotel on Thursday evening. The Doctoral Colloquium Funding Awards, in association with Chartered Accountants Ireland Educational Trust were presented to:
Aodhdín Casey, Lecturer in Maynooth University and doctoral candidate at Dublin City University
Michelle Gleeson, Lecturer in University College Cork and doctoral candidate South East Technological University
Tara Fennelly, Masters by Research candidate at South East Technological University
Niamh Lynch, Doctoral candidate at Trinity College Dublin
Aodhdín Casey and Michelle Gleeson were also awarded the IAFA's European Accounting Association PhD Forum Scholarship.