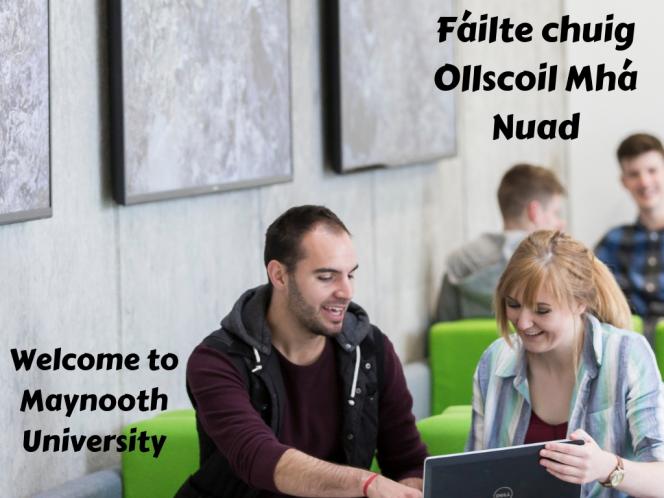 The New Student Orientation Programme is an opportunity for all new students starting in Maynooth University to:
Familiarise themselves with the campus;
Meet new friends;
Meet their lecturers and discuss various subject options (where relevant);
Meet the support staff.
Learn and Develop the skills required to navigate your academic journey and beyond.
Our year long New Student Orientation Programme begins with 2 key events:
Subject Information Talks which take place on Thursday, 12th and Friday, 13th September. These 2 days are important for any students who may have subject choices to make within their degree programme. You will find the Subject Information Talks schedules in the Welcome Week & Subject Choices Schedules Booklet 2019 .

This website, along with the other materials, will act as an aid for new students in the transition to university life (it may just even help our current students as well). The website provides key resources that you will need as you start your university journey but for specific information for Accommodation, International Students, Postgraduate Students and Key Dates please visit:
We know you will enjoy your time here in Maynooth and we look forward to meeting you.
And remember if you are not sure please do not hesitate to contact us or approach any member of staff when you are on campus.

Preparing for University
On receiving an offer from the CAO, it is both an exciting time but it is also a time when there is a lot changing so we have put together some checklists that will hopefully be of help as you prepare to come to University.
CAO applicants will receive an offer from the CAO as per the schedule outlined in their handbook. Acceptance of places for CAO applicants is made available via the CAO. The CAO will then advise Maynooth University of this information.
Do you live on or near campus or do you Commute?
Once you have accepted your place to attend Maynooth University, there are a number of practical issues that you need to look after as you prepare for university life such as:
Are you going to commute to university? What are the transport options?
Is it possible to have a mix of options re. living near campus and commuting?
Can I afford a specific option? What is my budget for attending college?
Is there any help with this issues?
Are you going to live on or near campus? In order to help you with these issues, you will find some of the basic information below and on this website along with the links to the relevant services on campus.