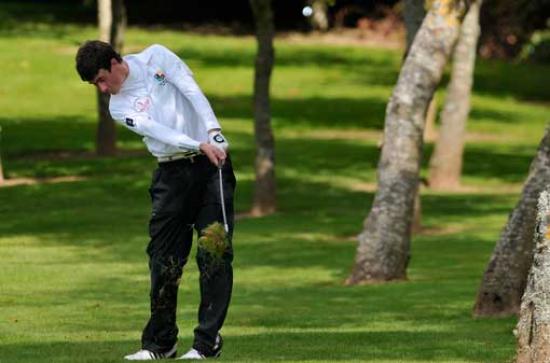 Monday, April 20, 2015 - 00:00
Gary Hurley, 3rd Year Business and Management student and Paddy Harrington Golf Scholar at Maynooth University, has been named to represent Europe in the 2015 Palmer Cup, the annual Ryder Cup-style collegiate competition to be played 12-14 June at Rich Harvest Farms, Illinois. Hurley is Ireland's leading amateur golfer and is ranked 33 in the World Amateur Golf Rankings.
"This is Gary's second time to compete on the European Palmer Cup team, having earned his place in 2013 by winning the R&A Foundation Scholars Tournament," said Barry Fennelly, Manager of the Maynooth University Paddy Harrington Golf Scholarship. "It represents a remarkable achievement and is testament to Gary's continued improvement and excellent international performances over the past year."
The Palmer Cup teams for both Europe and the United States were announced on Friday, 17 April.
Jon Rahm (Spain) of Arizona State University led the six players from Europe selected by the Palmer Cup Ranking. He was joined by his Arizona State teammate Max Rottluff (Germany), Rowin Caron of Florida State University (Netherlands), East Tennessee State University's Adrian Meronk (Poland), Clement Sordet from Texas Tech University (France) and Thomas Detry from University of Illinois (Belgium) from the rank­ing. Committee selections include Gary Hurley of Maynooth University (Ireland) and Vanderbilt University's Matthias Schwab (Austria). Math­ias Eggenberger, University of Stirling (Liechtenstein) qualified for Team Europe by winning the R&A Foundation Scholars Tourna­ment. Pep Angles, University of Central Arkansas (Spain) was Jean Van de Velde's Coach's Pick.
Lee McCoy, University of Georgia, Stanford University's Maverick McNealy, Vanderbilt University's Hunter Stewart, University of Alabama's Robby Shelton, Florida State University's Jack Maguire and Beau Hossler of University of Texas were the six United States players selected by the Palmer Cup Ranking. Baylor University's Kyle Jones, Georgia Tech University's Ollie Schniederjans and Carr Vernon of California State University-Monterey Bay were committee selections. Vernon was the designated non-Division I player. Anders Albertson of Georgia Tech was Coach Bruce Heppler's Coach's Pick. Maguire and Schniederjans were members of 2014 American team that fell to Europe at Walton Heath.
The Maynooth University Paddy Harrington Golf Scholarship programme is widely regarded as the best high-performance golf university programme in Ireland and allows talented young players to maintain a dual focus on academic and sporting progression.