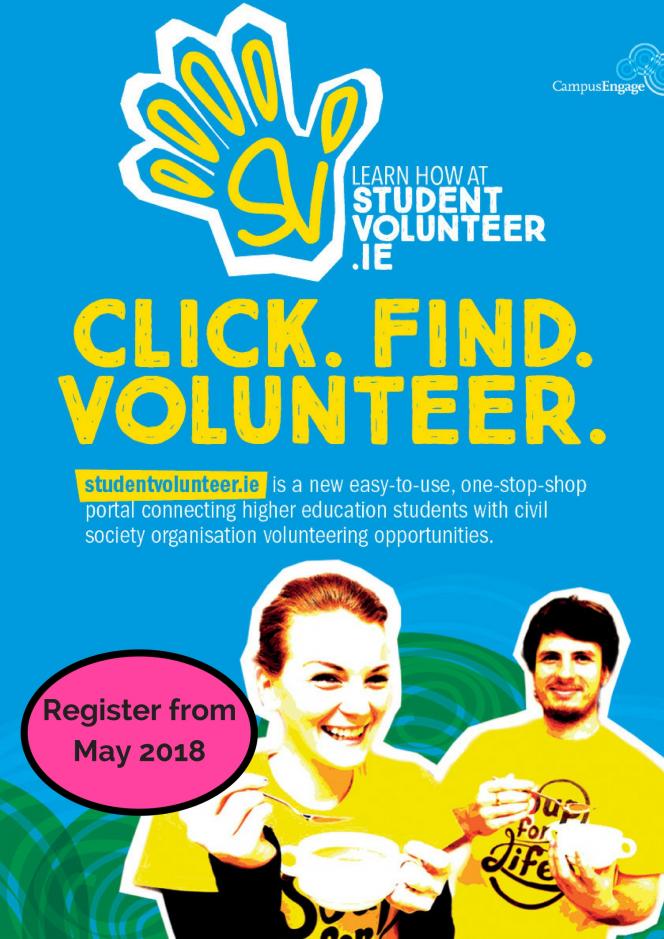 What is STUDENTVOLUNTEER.IE?
Studentvolunteer.ie is an online tool to harness, acknowledge and support students to volunteer in their communities. It was established by Campus Engage to harness, acknowledge and support the contribution that students make by volunteering.
What do I get from the STUDENTVOLUNTEER.IE as a student?
Studentvolunteer.ie enables students to have the opportunity to:
Enrich their personal development and employability skills
Have a fun experience and make new life long friends
Attain a Volunteering Certificate
Learn from community which could enhance academic learning
Build personal knowledge and skills while contributing to the capacity of community
Why should I volunteer?
If you are a student studying (undergraduate and postgraduate) volunteering will provide an opportunity to demonstrate your skills and knowledge, get some real-life experience and at the same time the local community benefits. Employers ask during interviews to share examples of any volunteering. This will show that you have transferable skills and you are able to adapt to any given situation.
Volunteering is a great way to get to know more people from different backgrounds. Volunteering can be a great way to improve your personal and professional development. Whilst volunteering, you can actually learn new skills which will not only benefit your professional life, but will give you a chance to develop further your career.
Also, volunteering can be a great way to experience something totally different and maybe even learn something new about yourself.
Whether you are a student looking to volunteer, or a University Department / External Organisation looking to advertise an opportunity, or just want more information, please contact the Maynooth University Volunteering Experience Team;
Telephone: 01-7086017
Email: volunteer@mu.ie
Follow us on social media:
Facebook: MUVolunteering
Twitter: @MU_Volunteering