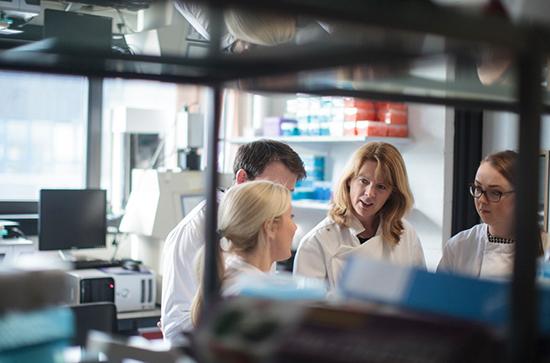 Tuesday, April 9, 2019 - 15:45
MaynoothWorks spinout Avectas has received its single largest investment of $10 million for its ground breaking cell therapy technology, bringing total fundraising to over $20 million.
Cell and gene therapies are considered the next important advance in pharmaceuticals, with the potential to transform the way diseases, particularly cancer, are treated.
The $10M million financing led by leading pharmaceuticals investor Seamus Mulligan is expected to fund the company to the point where its technology will be positioned for clinical trials. Avectas expects to add to its 24 staff following the new investment.
Avectas is working on cell engineering technology that allows cells to be taken from people, who are often critically ill, and returned to them after they have been genetically engineered to address their illness.
Chief scientific officer at Avectas, Dr Shirley O'Dea, said: "Engineering immune cells usually involves delivering new biological material into the cells to improve their function, but this is difficult to do without damaging the cells. Current methods involve viruses, chemicals or electric shocks. "
"As a cell biologist, for much of my career I've been aware of the challenges of delivering materials into cells, but now there are new opportunities for engineering cells outside the body and returning them to patients."
"What's unique about Avectas is that we have developed a new technology that's gentle enough to maintain cell health while efficiently modifying the cells," she explained.
Avectas supplies the delivery technology and the advanced therapeutic molecules will come from the various drug companies with which they are working. In this way, Avectas' is one of the leading cell engineering companies in personalised medicine.
Avectas' Solupore® technology increases cell permeability in a way that is gentler on the cells and more cost efficient than rival approaches. It also means the engineered cells can be returned to the host patient more quickly.
"The Avectas team is delighted to receive this significant endorsement from a highly experienced group of investors," said Dr Michael Maguire, co-founder and CEO of Avectas. "This funding, which builds on our recent Horizon 2020 award, provides us with the financial resources to accelerate the development, scale-up and commercialisation of Solupore®."


About Avectas:
Avectas was founded by Dr Michael Maguire and Dr Shirley O'Dea.
Dr Maguire is the company's CEO. He has more than 20 years of experience in the life sciences industry, serving as a founder, investor, director and business leader. Dr Maguire graduated from Trinity College, Dublin, as a biomedical engineer and completed his PhD at the interface between engineering and the life sciences at Maynooth University, on local drug delivery to the lungs.

Dr O'Dea is the company's CSO. She is charged with overseeing scientific programs. Dr O'Dea's basic research provides a strong pipeline of applications for Avectas technology. She has previously served as a principal investigator with Johnson & Johnson and has led a large academic group specialising in lung biology at Maynooth University.
Dr Gillian Hendy, who leads the Avectas business development team, obtained a PhD in Chemistry from Maynooth University and is a former postdoctoral fellow of Massachusetts Institute of Technology (MIT).

ENDS