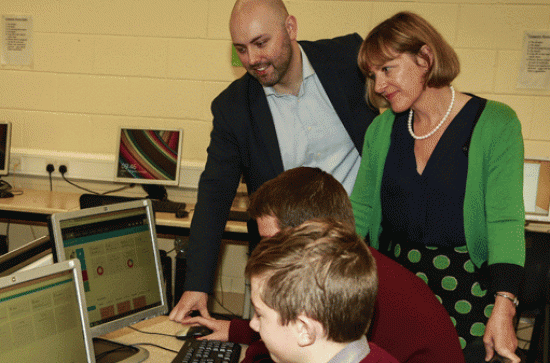 Wednesday, October 5, 2016 - 09:00
Start-up one of many to flourish at Maynooth University's incubation hub

SchoolWise, an online platform founded in 2015 that allows principals and teachers to streamline the process of planning, assessment, and reporting, is raising the overall performance of subject departments in Irish secondary schools by up to 60%. The cloud-based platform saves teachers up to 65% of the time they currently spend on these tasks, whilst also giving teachers and management the administrative and technological capacity to track each individual student's progress in key skills development, assessment performance, and learning outcomes.

SchoolWise is one of many start-ups to have thrived at MaynoothWorks—the University's new incubation hub, which opened last October. MaynoothWorks Director Owen Laverty observes: "Maynooth University places great importance on commercialisation and its role as a driver of economic growth in Dublin and the Midlands region. MaynoothWorks is now home to fifteen client companies, and SchoolWise is a great example of the innovative and important companies that are flourishing on our campus."

Speaking about the decision to base SchoolWise at MaynoothWorks, Leslie Turner said: "We had developed the platform and had some early validation but realised that we were lacking the support and expertise to bring it to the next level. The practical advice, network and direction we have received in MaynoothWorks have been game changing for us".

The platform makes it easy for teachers to map out their subjects and ensure that each student reaches their clearly delineated targets. During the design phase, SchoolWise received input from the National Council for Curriculum & Assessment (NCCA) and Junior Cycle for Teachers to ensure it was ideally suited to help teachers meet Department requirements in subject planning, assessment, reporting, and compliance. The platform is automatically updated when new specifications are published.

This feature has seen SchoolWise establish itself as a vital tool for the implementation of the new Junior Cycle curriculum. SchoolWise provides all the scaffolding necessary for school departments to quickly adapt to the changed curriculum, which enables teachers to embrace the opportunities that it offers to deliver new ways of teaching and learning.

With the Junior Cycle reforms seeing a move towards school based assessment, SchoolWise also enables teachers to track student progress in meeting targets set out in the subject specifications. Faculties and management can keep track of student outcomes with the platform identifying positive and negative trends as they emerge. This allows for early and correct intervention leading to better overall outcomes for student.

Discussing the role that SchoolWise is playing in schools, CEO and co-founder Leslie Turner observed: "Our goal with SchoolWise is to increase the productivity of individual teachers and departments to raise the overall performance of the school. At Presentation De La Salle Carlow, where we installed one of our first platforms, visiting Department of Education inspectors saw that subject departments had significantly increased their performance with some seeing a greater than 60% improvement. The Department has requested that other schools be referred to De La Salle to see the impact SchoolWise is having."

Discussing the platform, Sally Roynane, ICT Co-ordinator at Presentation De La Salle Carlow said: "Every school now has to juggle increased administration tasks, the delivery of an evolving curriculum, and shrinking budgets. Schools have to be open to new ideas and new technologies in order to accomplish this, and we have found SchoolWise to be a tremendous resource for us. Staff are spending much more time teaching and helping students and less time on planning and assessment, the impact of this is clearly evident in the outcomes of our students."

About Maynooth Works
MaynoothWorks, Maynooth University's business incubator, was opened in October 2015. It is based in the University's new €20.6 million Eolas building— the state-of-the art facility which serves as a 'research powerhouse' that fosters collaboration with industry and deepens the University's culture of spin-out companies. As well as providing modern facilities and office space, MaynoothWorks offers executive coaching, mentoring, peer-to-peer learning, and access to world-class research expertise for technology start-ups. MaynoothWorks is currently home to fifteen start-up technology companies.