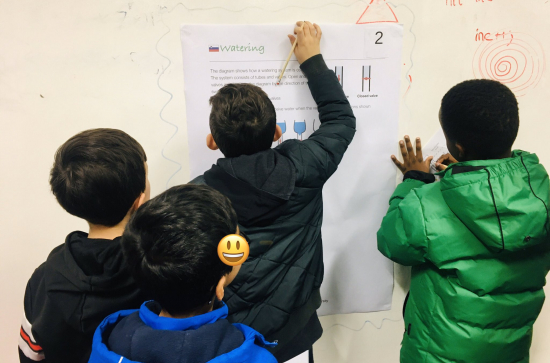 Tuesday, March 23, 2021 - 13:00
The PACT team at Maynooth University Department of Computer Science have been awarded €149,375.77 in funding from the SFI Discover Programme for their project CoCoA: Co-create Collaborate Activate - Advancing Computational Thinking Education (2021-2022). The team develop teaching materials to enhance problem-solving skills through education in computational thinking. The CoCoA project will promote engagement in Computational Thinking, as a vehicle to improve scientific problem-solving skills through three core activities as follows:
- Co-creation of teaching materials: through collaboration with in-service and pre-service teachers to produce lesson plans providing both traditional Computational Thinking tasks and active learning tasks for a classroom setting; guidance notes to teachers; and Computational Thinking resource books with exercises that students complete at home with their parents.
- Collaboration among peers: until now focus has of the teams' work been on students working individually, but they recognise that their resources facilitate teamwork among peers. Key to this is giving students the mechanisms and language necessary for collaborative problem solving and reflection.
- Activation: they co-develop active CT games to facilitate active learning, leveraging student's familiarity with team sports towards more STEM based endeavours.
The CoCoA project (2021 - 2022) is a follow-on project to the InSPECT project (2018-2021) also funded by the SFI Discover programme. Through these projects the PACT team offer free online workshops for teachers and school visits as detailed on https://pact.cs.nuim.ie/pages/school-visits-workshops.html They have also adapted some of their resources to promote computational thinking skills in primary and secondary schools, themed for events such as Easter, St Patricks Day and Seachtain na Gaeilge as available on https://pact.cs.nuim.ie/pages/resources-for-teachers.html
The full announcement of SFI Discover Programme projects funded is at https://www.sfi.ie/research-news/news/harris-52-million-epe/ and the Maynooth University projects highlighted at https://www.maynoothuniversity.ie/news-events/mu-stem-projects-funded-under-52m-sfi-ireland-discover-programme