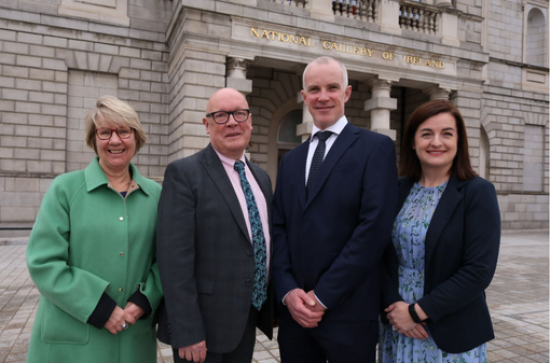 Tuesday, November 29, 2022 - 13:30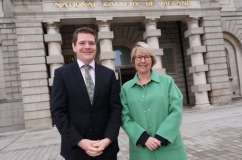 Minister of State with responsibility for Local Government and Planning, Peter Burke TD, has today launched Ireland's first Regional Development Monitor (RDM) at the National Gallery of Ireland.
Accessible to all online and updated quarterly, the Regional Development Monitor (https://rdm.geohive.ie/) enables easy visualization and analysis of recent trends using interactive online dashboards, collating data from across a wide variety of authoritative data from national agencies.
The Regional Assemblies in Ireland, AIRO at Maynooth University and Ordnance Survey Ireland (OSI) are collaborating on this project to create a highly visual and interactive dashboard, or data hub, that provides users with a range of socio-economic and environmental indicators for regional and local authorities.
This resource has been created as a key monitoring resource for the Regional Assemblies to assist in the evaluation and development of Regional Spatial and Economic Strategies, and to enable local authorities in the preparation and implementation of City and County Development Plans and many other local plans and policies.
Additionally, it will also prove a valuable reference and informational tool for all Government departments, public bodies, education, community groups, business and industry, as well as members of the public and the media, seeking accurate information on national and regional trends across a range of economic, social and environmental fields.
Our People and Places – demographic change, housing completions and vacancy, housing supports, transport, health
Our Green and Sustainable Future – renewable energy developments, GHG emissions, water quality and wastewater compliance
Our Region's Economy – labour force statistics, foreign direct investment, life-long learning, affluence and disadvantage
Announcing the new Regional Development Monitor, Minister Peter Burke said: "This is a fantastic new tool and will assist with the development and evaluation of many policies across our society. The wide breadth of information is impressive, and the collaborative nature of the project is a great example of public sector partners working together to build on their combined expertise in policy, data knowledge and technology."
The monitor is built on GeoHive, the National Geospatial Data Hub from OSI. It collates national authority data sources from agencies such as the Central Statistics Office (CSO), the Environmental Protection Agency (EPA) and the Sustainable Energy Authority of Ireland (SEAI). Developed in collaboration with Maynooth University's AIRO - The All-Island Research Observatory, the Regional Development Monitor reflects the latest research and expertise.
Jim Conway, Director EMRA, speaking on behalf of the Regional Assemblies, said: "The Regional Spatial and Economic Strategies (RSES) are strategic plans and investment frameworks to shape the future development of our Regions to 2031 and beyond. The launch of the RDM is a major step forward in enabling an easy to use and effective way of monitoring the RSES and advancing evidence based policy making and implementation. It will be of great benefit to colleagues and stakeholders engaged in planning and policy development at all tiers of central, regional and local government."
Commenting on the RDM launch, CEO of the OSI, Colin Bray, said: "The Regional Development Monitor is an excellent example of collaboration between public sector agencies and aligns with the Public Service Data Strategy in how the State improves how we govern, manage and re-use data in a secure, efficient, and transparent way, for the benefit of citizens, businesses and policy makers. Positioning GeoHive at the core of this project is a great news story for the OSI."
Speaking at the launch, the President of Maynooth University, Professor Eeva Leinonen, commented: "It has been a real pleasure to watch the evolution and launch of this important national project. The team at AIRO in Maynooth University have been researching and enhancing the standard of evidence-based planning in Ireland for many years. This latest collaboration with the Regional Assemblies and Ordnance Survey Ireland is a product of this research and expertise and will be recognised as international best-practice."