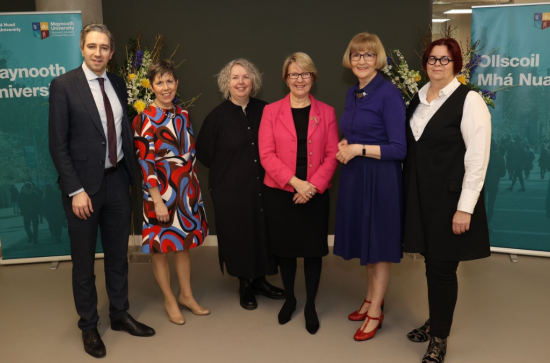 Monday, March 6, 2023 - 12:30
Maynooth University has today hosted a historic event featuring female Irish university presidents in conversation to mark International Women's Day 2023.
This unique event, bringing together six sitting female presidents in a public conversation, was opened by Minister for Further & Higher Education, Research, Innovation and Science & Justice, Simon Harris TD.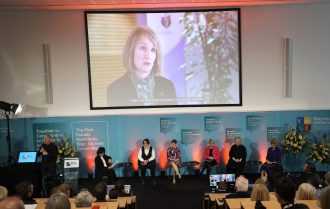 The panel of female university presidents comprised Professor Eeva Leinonen, Maynooth University; Professor Veronica Campbell, South East Technological University; Professor Maggie Cusack, Munster Technological University; Provost, Dr Linda Doyle, Trinity College Dublin; Dr Orla Flynn, Atlantic Technological University and Professor Kerstin Mey, University of Limerick.
The panel discussion, moderated by Irish Times columnist Kathy Sheridan, offered intriguing insights into the presidents' leadership journeys, their perspectives on gender in academia and views on key elements influencing the higher education landscape.
Opening the event, Minister Harris said: "When I was first appointed Minister for Further and Higher Education, there were no female Presidents of Irish Universities.
"Today we have seven. And those seven Presidents represent a diversity of nationality, experiences, and disciplines. It's a powerful statement about the progress made towards gender equality in the higher education landscape in Ireland. But there is much more to do. And we can never stop our pursuit of gender equality."
Commenting on the discussion, Professor Eeva Leinonen, Maynooth University stated: "Our International Women's Day event comes at a pivotal time in Ireland's changing landscape of higher education. It is a powerful statement of the progress made towards gender equality. This coming together of female University Presidents seeks to strengthen connections across leadership in order to leverage the potential of our expanding family of universities."
"Universities of the future need a diversity of perspectives, missions and leaders. We must not stand still; further concerted efforts are required to empower women of all backgrounds across leadership positions so that collectively we can make our contribution to the future of tertiary education in Ireland and on the global higher education stage."
The panellists congratulated the latest university president to join this exceptional group of female leaders in Ireland. President-elect of UCD, Prof Orla Feely, in May, becomes the seventh female university president.