Thursday, February 9, 2023 - 15:15
Maynooth University this week hosted a 'GoGreenRoutes' conference for mental and physical wellbeing attended by Jack Chambers, TD, Minister of State at the Department of Transport and the Department of Environment, Climate and Communications.

GoGreenRoutes is a €10.5m EU-funded project that aims to enhance the physical and mental health of urban residents through access to, and experiences of, nature. The project based at Maynooth University is examining the impact of nature-based design, such as introduction of green corridors and parks and shared walkways on environmental quality and the public's sense of well-being.

Addressing the event, Minister of State Chambers said the work of GoGreenRoutes would contribute to the Government's aim to embed a more sustainable and biodiverse environment, while helping to address the climate crisis.

The Minister said the Programme for Government committed to cross-government spending of approximately €360m per annum for active travel measures throughout the lifetime of this Government. This will contribute to the development of almost 1,000 km of new and improved walking and cycling infrastructure across the country by 2025.

"This is a transformational change from a community perspective and encouraging greater levels of walking and cycling both for leisure and for journeys with a purpose, is a key priority of this Government."

Minister Chambers noted: "Maynooth is a fantastic location to have that discussion, with the Royal Canal Greenway right here. This is something we're working on to further expand the Greenway from an active travel perspective."

The event was attended by the French Ambassador to Ireland H.E. Vincent Guérend and by delegates from across a range of European countries.

The GoGreenRoutes project has established 'Urban Well-being Labs' in six cities, Burgas, Bulgaria; Lahti, Finland; Limerick, Ireland; Tallinn, Estonia; Umeå, Sweden and Versailles, France. The project tests new ideas in urban design and public spaces where the public can actively move around the city in a sustainable way to enhance local ecology.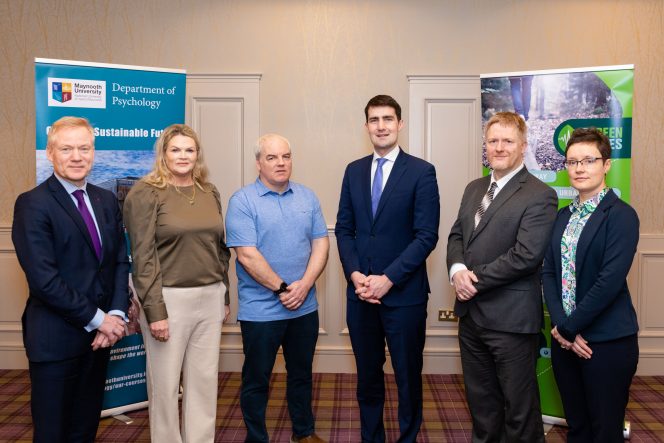 Pictured at the GoGreenRoutes conference (left to right) French Ambassador to Ireland, H.E. Vincent Guérend, UNESCO Chair at MTU and key note speaker, Dr Catherine Carty, Senior Lecturer in the Department of Psychology and GoGreenRoutes Coordinator at Maynooth University, Dr Tadgh MacIntyre, Minister of State at the Department of Transport and the Department of the Environment, Climate and Communications, Jack Chambers, Dean of the Faculty of Science and Vice-President for Research at Maynooth University, Prof Ronan Farrell, Director of Internationalisation at Maynooth University, Claire Doran