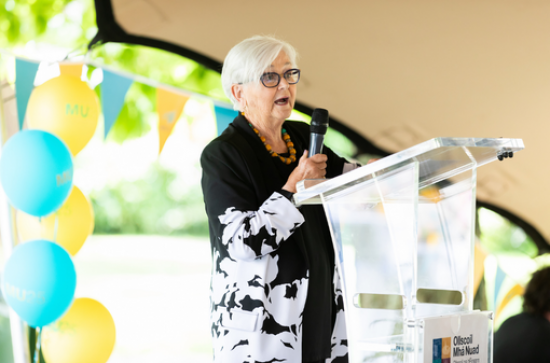 Tuesday, February 7, 2023 - 16:30
Maynooth University extends its deepest sympathy to the family of former education minister Niamh Bhreathnach.
As both an educationalist and pioneering education minister, Ms Bhreathnach leaves a lasting legacy of innovations and achievements across the education sector in Ireland.
As a former Labour Party TD, and serving as Minister for Education from 1993 to 1997, Ms Bhreathnach heralded the foundation of the National University of Ireland, Maynooth, with the introduction of the Universities Act 1997.
A graduate of Froebel in Sion Hill, which relocated to Maynooth University in 2013, Ms Bhreathnach introduced a range of structural reforms across the primary and second-level sector, and pioneered gender equality on the boards and activities of universities as part of the legislative changes in the Universities Act.
Maynooth University was delighted to host Ms Bhreathnach at a celebratory event for staff last summer to mark 25 years as an independent university, where in a highly significant speech, she discussed the challenges she overcame in introducing the legislative changes in the Universities Act.
Ms Bhreathnach donated her archive of political speeches and press cuttings, in addition to personal photographs and documents to Maynooth University. We are honoured to act as the repository for this special collection of documents recorded by such an influential figure in Irish education.
Ar dheis Dé go raibh a hanam dílis.
MU Library Treasures has compiled aspects from the Niamh Bhreathnach Archive, which is available to read here.
Ms Bhreathnach's speech at the 25th Anniversary of Maynooth University celebrations is available to read here: Niamh Bhreathnach - MU25 Speech
Pictured left to right: William J Smyth, President Emeritus of Maynooth University, Niamh Bhreathnach, former education minister, Professor Eeva Leinonen, President of Maynooth University and Dr Mary Canning, Chair of Maynooth University Governing Authority at MU 25th birthday celebration.