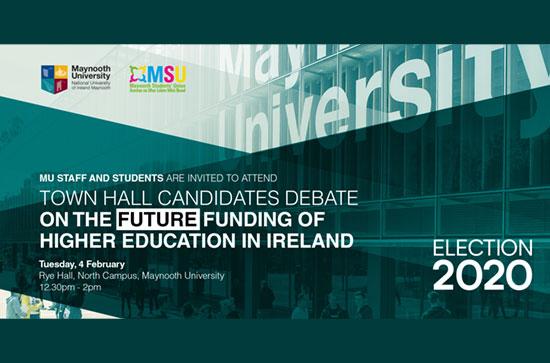 Tuesday, February 4, 2020 - 12:30
Rye Hall, North Campus
Maynooth University and Maynooth Students' Union will host a town hall candidates' debate on the future of Irish higher education and research funding on Tuesday, 4 February, 2020 at 12:30pm. All Maynooth University staff and students are invited to attend.
The main candidates vying for the right to represent the constituencies of Kildare North, Kildare South and Meath East in Dáil Éireann have been invited to participate.
The event is part of a larger campaign for funding and is the first time the representative bodies for the public higher education system – institutions and students - have come together under a single cause. The IUA, THEA and the USI - representative bodies for universities, institutes of technology and students - have come together to make the case for investment in higher education by the next Government.