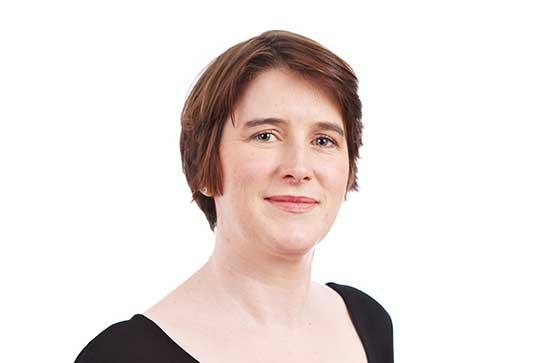 Aedin Doris has been a Lecturer in Maynooth's Economics Department since 1997, after undertaking her PhD at the European University Institute in Florence.

Aedin is an applied labour economist with interests in labour supply; the effects of benefit systems; the determinants of earnings and earnings inequality; and the economics of education. Her research has focussed on both policy and methodological issues in the analysis of labour markets, particularly in an Irish context.

She is a member of the Centre for International Student Loans Research (CISLR). In 2017, she was joint winner (with Bruce Chapman of Australian National University) of the Miriam Hederman O'Brien prize, awarded by the Foundation for Fiscal Studies for outstanding work in the area of fiscal policy.
Labour Economics, Economics of Inequality, Economics of Education, Labour Market Public Policy
 
Year
Publication
2020
'Does Reducing Unemployment Benefits During a Recession Reduce Youth Unemployment? Evidence from a 50% Cut in Unemployment Assistance'
Aedín Doris, Donal O'Neill, Olive Sweetman (2020) 'Does Reducing Unemployment Benefits During a Recession Reduce Youth Unemployment? Evidence from a 50% Cut in Unemployment Assistance'. Journal of Human Resources, [DOI] [Details]
2020
'How Important are Firms in Explaining Wage Changes During a Recession?'
Doris A.;O'Neill D.;Sweetman O. (2020) 'How Important are Firms in Explaining Wage Changes During a Recession?'. Economica, 87 (345):282-298 [DOI] [Details]
2019
'Modelling higher education financing reform for Ireland'
Chapman B.;Doris A. (2019) 'Modelling higher education financing reform for Ireland'. Economics of Education Review, 71 :109-119 [DOI] [IR Link] [Details]
2019
'Ireland's Gender Gap, Past and Present'
Aedin Doris (2019) 'Ireland's Gender Gap, Past and Present'. Economic And Social Review, 50 (4):667-681 [Details]
2015
'Wage Flexibility and the Great Recession: the Response of the Irish Labour Market'
Aedin Doris, Donal O'Neill, Olive Sweetman (2015) 'Wage Flexibility and the Great Recession: the Response of the Irish Labour Market'. IZA JOURNAL OF EUROPEAN LABOR STUDIES, 4 [DOI] [IR Link] [Details]
2013
'Gender, Single-Sex Schooling and Maths Achievement'
Aedín Doris, Donal O'Neill and Olive Sweetman (2013) 'Gender, Single-Sex Schooling and Maths Achievement'. Economics of Education Review, 35 :104-119 [IR Link] [Details]
2013
'Identification of the Covariance Structure of Earnings Using the GMM Estimator'
Doris, Aedín, Donal O'Neill and Olive Sweetman (2013) 'Identification of the Covariance Structure of Earnings Using the GMM Estimator'. JOURNAL OF ECONOMIC INEQUALITY, 11 :343-372 [IR Link] [Details]
2011
'GMM Estimation of the Covariance Structure of Longitudinal Data on Earnings'
Doris, Aedin, Donal O'Neill and Olive Sweetman (2011) 'GMM Estimation of the Covariance Structure of Longitudinal Data on Earnings'. Stata Journal, 11 :439-459 [IR Link] [Details]
2001
'The Changing Responsiveness of Labour Supply During the 1990s'
A. Doris (2001) 'The Changing Responsiveness of Labour Supply During the 1990s'. Quarterly Economic Commentary, 12 :68-82 [IR Link] [Details]
1998
'Married Women in the Irish Part-Time Labour Market'
Aedin Doris (1998) 'Married Women in the Irish Part-Time Labour Market'. Economic And Social Review, 29 :157-178 [IR Link] [Details]
 
Year
Publication
2000
'Taxes, Transfers and Labour Market Responses in Ireland: Where Do We Go from Here?'
A. Doris, T. Callan and B. Nolan (2000) 'Taxes, Transfers and Labour Market Responses in Ireland: Where Do We Go from Here?' In: Taxes, Transfers and Labour Market Responses: What Can Microsimulation Tell Us?. Dublin: Economic and Social Research Institute Policy Research Series No. 36. [Details]
2000
'Wage Differentials and Labour Market Participation'
A. Doris (2000) 'Wage Differentials and Labour Market Participation' In: How Unequal? Men and Women in the Irish Labour Market. Dublin: Oaktree Press. [Details]
Year
Publication
2016
Investing in National Ambition: a Strategy for Funding Higher Education.
Expert Group on Funding for Higher Education; Aedin Doris (contributor to Appendix 3) (2016) Investing in National Ambition: a Strategy for Funding Higher Education. Department of Education and Skills, Dublin. [Details]
2014
A National Evaluation of the HEAR and DARE Supplementary Admission Routes to Higher Education: Report Commissioned by the HEAR DARE Strategic Development Group of the Irish Universities Association.
Delma Byrne, Aedin Doris, Olive Sweetman, Ruth Casey, David Raffe (2014) A National Evaluation of the HEAR and DARE Supplementary Admission Routes to Higher Education: Report Commissioned by the HEAR DARE Strategic Development Group of the Irish Universities Association. HEAR DARE Strategic Development Group, Dublin. [IR Link] [Details]
1999
Labour Supply Responses to the Minimum Wage, Chapter 4 in 'The Impact of the Minimum Wage in Ireland: Report for the Inter-Departmental Group on the Implementation of a National Minimum Wage.
Tim Callan and Aedín Doris (1999) Labour Supply Responses to the Minimum Wage, Chapter 4 in 'The Impact of the Minimum Wage in Ireland: Report for the Inter-Departmental Group on the Implementation of a National Minimum Wage. The Stationery Office, Government Publications Office, Dublin. [Details]
Year
Publication
2005
Budget Perspectives 2006
Tim Callan, Aedin Doris (Ed.). (2005) Budget Perspectives 2006 Dublin: The Economic and Social Research Institute. [Details]
2004
Budget Perspectives 2005
Tim Callan, Aedin Doris, Daniel McCoy (Ed.). (2004) Budget Perspectives 2005 Dublin: The Economic and Social Research Institute. [Details]
2003
Budget Perspectives 2004
Tim Callan, Aedin Doris, Daniel McCoy (Ed.). (2003) Budget Perspectives 2004 Dublin: The Economic and Social Research Institute. [Details]
Year
Publication
2017
European Association of Labour Economists Annual Conference.
Aedin Doris (2017) European Association of Labour Economists Annual Conference. [Oral Presentation], Does Reducing Unemployment Benefits During a Recession Reduce Youth Unemployment? Evidence from a 50% Cut in Unemployment Assistance, St. Gallen, Switzerland , 21-SEP-17 - 23-SEP-17 [Details]
2017
Policy Forum on Higher Education Funding: The Potential Role of Income-Contingent Student Loans.
Aedin Doris (2017) Policy Forum on Higher Education Funding: The Potential Role of Income-Contingent Student Loans. [Oral Presentation], Higher Education Funding: The Public Finance Implications of the Cassells Report Options, Royal Irish Academy, Dublin , 07-SEP-17 - 07-SEP-17 [Details]
2016
Higher Education Student Finance Workshop, Tongji University.
Aedin Doris (2016) Higher Education Student Finance Workshop, Tongji University. [Invited Oral Presentation], Country Study: Ireland, Shanghai, China , 21-OCT-16 [Details]
2011
Growing Up in Ireland Annual Research Conference.
Aedin Doris (2011) Growing Up in Ireland Annual Research Conference. [Oral Presentation], The Gender Maths Gap and Single Sex Schooling, Dublin , 01-DEC-11 [Details]
2010
European Society of Population Economics Annual Conference.
Aedin Doris (2010) European Society of Population Economics Annual Conference. [Oral Presentation], Identification of the Covariance Structure of Earnings Using the GMM Estimator, Essen, Germany , 10-JUN-10 [Details]
2016
Seminar on the Funding of Higher Education, Trinity Research Centre for Cultures Academic Values and Education, Trinity College Dublin.
Aedin Doris (2016) Seminar on the Funding of Higher Education, Trinity Research Centre for Cultures Academic Values and Education, Trinity College Dublin. [Invited Oral Presentation], Policy Options for the Future, Dublin , 05-OCT-16 [Details]
2016
New Zealand Work Research Institute, Auckland Institute of Technology.
Aedin Doris (2016) New Zealand Work Research Institute, Auckland Institute of Technology. [Invited Lecture], Wage Changes in the Irish Labour Market: Within- and Between-Firm Effects, Auckland, New Zealand , 13-JUN-16 [Details]
2016
Irish Economic Association Annual Conference.
Aedin Doris (2016) Irish Economic Association Annual Conference. [Oral Presentation], Modelling Higher Education Financing Reform for Ireland, Galway , 04-MAY-16 [Details]
2016
Seminar on the Brexit Referendum, Maynooth University.
Aedin Doris (2016) Seminar on the Brexit Referendum, Maynooth University. [Invited Oral Presentation], Brexit: The Economic Implications for Ireland, Maynooth , 26-APR-16 [Details]
2015
Geary Institute, UCD.
Aedin Doris (2015) Geary Institute, UCD. [Invited Lecture], Income Contingent Loans for Ireland: What Can Irish Data Tell Us?, Geary Institute, University College Dublin , 24-NOV-15 [Details]
2015
4th Administrative Data Seminar.
Aedin Doris (2015) 4th Administrative Data Seminar. [Invited Oral Presentation], Using Job Churn Administrative Data for Labour Market Analysis, Dublin , 20-APR-15 [Details]
2015
Irish Economy Conference.
Aedin Doris (2015) Irish Economy Conference. [Invited Oral Presentation], Wage Responses to the Great Recession, Dublin , 25-FEB-15 [Details]
2014
Meeting of the Statistical and Social Inquiry Society of Ireland.
Aedin Doris (2014) Meeting of the Statistical and Social Inquiry Society of Ireland. [Invited Oral Presentation], Discussion of 'Developments in the Irish Labour Market During the Crisis: What Lessons for Policy? by T. Conefrey, M. Lawless and S. Linehan, Dublin , 29-OCT-14 [Details]
2014
Trinity College Dublin.
Aedin Doris (2014) Trinity College Dublin. [Invited Lecture], Wage Flexibility and the Great Recession: The Response of the Irish Labour Market, Dublin , 07-OCT-14 [Details]
2014
European Economic Association Annual Conference.
Aedin Doris (2014) European Economic Association Annual Conference. [Oral Presentation], Wage Flexibility and the Great Recession: The Response of the Irish Labour Market, Toulouse, France , 25-AUG-14 [Details]
2014
Irish Economic Association Annual Conference.
Aedin Doris (2014) Irish Economic Association Annual Conference. [Oral Presentation], Wage Flexibility and the Great Recession: The Response of the Irish Labour Market, Limerick , 08-MAY-14 [Details]
2013
NERI Labour Market Conference.
Aedin Doris (2013) NERI Labour Market Conference. [Invited Oral Presentation], Wage Flexibility in the Irish Labour Market, Nevin Economic Research Institute, Dublin , 01-MAY-13 [Details]
2012
2nd Royal Holloway University of London – UCD Joint Workshop.
Aedin Doris (2012) 2nd Royal Holloway University of London – UCD Joint Workshop. [Invited Oral Presentation], The Gender Maths Differential: Does Single-Sex Schooling Explain It?, Geary Institute, University College Dublin , 04-MAY-12 [Details]
2012
Irish Economic Association Annual Conference.
Aedin Doris (2012) Irish Economic Association Annual Conference. [Oral Presentation], The Gender Maths Differential: Does Single-Sex Schooling Explain It?, Dublin , 27-APR-12 [Details]
2012
Irish Economy Conference.
Aedin Doris (2012) Irish Economy Conference. [Invited Oral Presentation], Employment and Unemployment: What Do Sectoral and Demographic Patterns Tell Us?, Croke Park, Dublin , 27-JAN-12 [Details]
| | Year | Institution | Qualification | Subject |
| --- | --- | --- | --- | --- |
| | 1995 | Trinity College Dublin | MLitt | |
| | 1998 | European University Institute | PhD | |