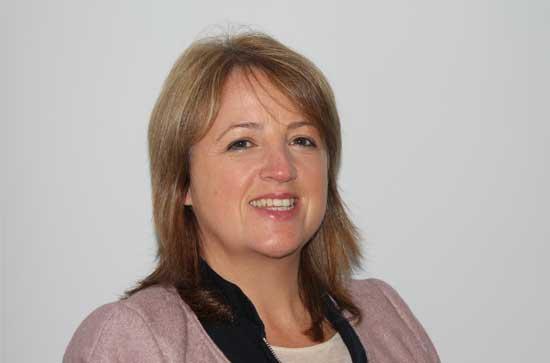 Marie McLoughlin began her career as a primary school teacher having graduated from Carysfort College of Education in Blackrock, Co Dublin. Subsequently, she worked in a number of Irish and international schools and spent her latter teaching years as Vice Principal of a DEIS school (i.e. designated as educationally disadvantaged) in St Patrick's Boys' National School, Carndonagh, Co. Donegal. In 2000, she was seconded to the Primary Curriculum Support Programme (PCSP) - an organisation tasked with providing in-service teacher education to all primary school teachers in the Republic of Ireland in the newly published Primary School Curriculum (1999). During her eight years with the PCSP, she embraced a range of roles including Curriculum Trainer, Advisor, Assistant National Co-ordinator culminating in 2004 with her appointment as National Co-ordinator of the organisation leading a team of c.150 seconded teachers.

In 2008, Marie McLoughlin was appointed President of the Froebel College of Education, a unique institution which prided itself in producing high-quality primary school teachers based on Froebelian values and principles. Her foresight and leadership in initiating and facilitating the merger of the College with Maynooth University (MU) placed the newly established Froebel Department of Primary and Early Childhood Education firmly at the centre of Irish teacher education. The transfer of Froebel College to Maynooth University now means that the entire spectrum of teacher education exists, for the first time in the history of the State, within one centre of excellence. This forms a potent critical mass of teacher educators and researchers working in education disciplines from early childhood education to adult and community education in one location.

Marie's research interests are in areas related to mergers within higher education. Specifically, she has explored the influences of cultural and structural factors on staff and student teachers within the context of college-university mergers. She teaches on subjects such as change agency in teachers, the teaching of reading to children, early childhood studies and reflective practice.
 
Year
Publication
2018
'Destined to Teach'
Mc Loughlin, M. (2018) 'Destined to Teach' In: Carysfort College Remembered. Dublin: Unknown. [Details]
2014
'Froebel Colege of Education transfers to Maynooth University'
Mc Loughlin, M. (2014) 'Froebel Colege of Education transfers to Maynooth University' In: Education Matters Yearbook 8. Galway: Education Matters. [Details]
Year
Publication
2006
Teachers supporting teachers: The Primary Curriculum Support Programme
Marie McLoughlin and Mary McAuliffe (2006) Teachers supporting teachers: The Primary Curriculum Support Programme Teacher Education and Schools: Together Towards Improvement , pp.67-79 [Details]
Year
Publication
2018
This presentation discusses the policy context for School Placement practices in Ireland and the issues facing providers of initial teacher education.
Mc Loughlin, M. (2018) This presentation discusses the policy context for School Placement practices in Ireland and the issues facing providers of initial teacher education. [Oral Presentation], Balancing on the Edge of a Tightrope: Negotiating the Complex Terrain of Policy and Partnership – All in the Name of "Progressive" School Placement Provision, Maynooth [Details]
2018
This presentation addresses delegates from various European contexts involved in Digital Learning Erasmus Plus Project. It charted the journey, highlighting the successes and outcomes of the project.
Mc Loughlin, M. (2018) This presentation addresses delegates from various European contexts involved in Digital Learning Erasmus Plus Project. It charted the journey, highlighting the successes and outcomes of the project. [Oral Presentation], Thoughts and Reflections on the Transnational Project: A Welcome Address. Digital Learning Journey of Europe, Maynooth [Details]
2018
This presentation provided the audience with an insight into a module on a Bachelor of Education degree which aims to prepare students to become active agents of change. It covers aspects such as social justice, agency, change, organisational culture, teacher identity and teacher leadership.
Mc Loughlin, M. (2018) This presentation provided the audience with an insight into a module on a Bachelor of Education degree which aims to prepare students to become active agents of change. It covers aspects such as social justice, agency, change, organisational culture, teacher identity and teacher leadership. [Oral Presentation], Keeping the Peace or Challenging the Status Quo? Instilling Agency for Change in Froebelian Student Teachers, Hiroshima, Japan [Details]
2018
This presentation discussed the challenges our natural heritage is destined to face in light of emerging evidence on climate change and the potential that innovations in technology can offer to communities.
Mc Loughlin, M. (2018) This presentation discussed the challenges our natural heritage is destined to face in light of emerging evidence on climate change and the potential that innovations in technology can offer to communities. [Oral Presentation], Heritage for Humanity and Hope: Creating a Brighter Future for All, Carndonagh, Co Donegal [Details]
Year
Publication
2019
Interim Evaluation of the Leadership for INClusion in the Early Years LINC programme.
Ring, Kelleher, Breen, Mc Loughlin, Kearns, Stafford, Skehill, Campion, Comerford and O Sullivan (2019) Interim Evaluation of the Leadership for INClusion in the Early Years LINC programme. Department for Children and Youth Affairs, Dublin. [Details]
Year
Publication
2018
Negotiating Structural and Cultural Factors Pre-and Post-Merger between a University and a College of Education: Considerations for Initial Teacher Education in Ireland.
Mc Loughlin, M. (2018) Negotiating Structural and Cultural Factors Pre-and Post-Merger between a University and a College of Education: Considerations for Initial Teacher Education in Ireland. ANET/COS [Details]