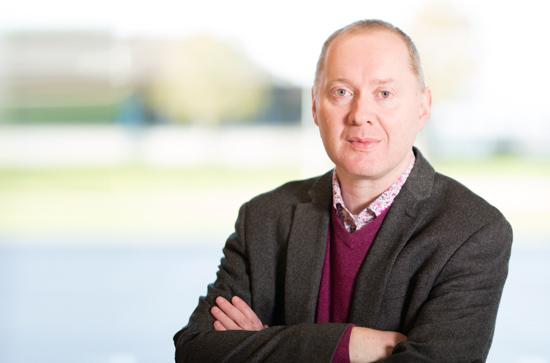 Michael G Cronin is a Lecturer in English, specialising in twentieth-century and contemporary Irish literature and in sexuality studies.
He received his MA from the University of Sussex, having studied on the renowned Sexual Dissidence and Cultural Change programme. He subsequently completed a doctorate on the twentieth-century Irish Catholic bildungsroman at Maynooth University, where he was an IRCHSS Government of Ireland scholar. He has taught at MU since 2007, and has been a tenured lecturer since 2015.

His books include Impure Thoughts (2012) and Revolutionary Bodies (2022), and the forthcoming Sexual/Liberation (part of the Sireacht: longings for another Ireland series.) He has published numerous essays on twentieth-century and contemporary Irish fiction (most recently in the Oxford Handbook of Modern Irish Fiction and the Cambridge History of Irish Modernism), and on contemporary Irish sexual politics. He was Guest Editor of a special issue of Irish Review (Irish Review 46, Autumn 2013) on Irish Studies in the wake of the 2008 crash.

Along with teaching on the undergraduate and MA programmes, he has supervised/is supervising doctoral projects on: gendered neoliberalism in contemporary popular fiction; modernity, ethics and the Second World War in Irish fiction; queer feminist revisions of classic fairytales.

Irish Literary and Cultural Studies; Gender and Sexuality Studies, specifically Marxist perspectives; history of the novel; Marxist literary theory.
My most recent books are Revolutionary Bodies: homoeroticism and the political imagination in Irish writing and the forthcoming Sexual/Liberation. The former is a study of the erotics and politics of the male body in modern Irish fiction. The second is an essay on contemporary sexual politics and how Irish culture imagines the 'gay man'. It will be part of a series entitled Sireacht: longings for another Ireland.



Year
Publication
2022
Revolutionary Bodies: homoeroticism and the political imagination in Irish writing.
Michael G Cronin (2022) Revolutionary Bodies: homoeroticism and the political imagination in Irish writing. Manchester: Manchester UP. [Details]
2022
Sexual/Liberation (forthcoming).
Michael G Cronin (2022) Sexual/Liberation (forthcoming). Cork: Cork UP/Sireacht. [Details]
2012
Impure Thoughts: sexuality, Catholicism and literature in twentieth-century Ireland.
Michael G. Cronin (2012) Impure Thoughts: sexuality, Catholicism and literature in twentieth-century Ireland. Manchester: Manchester University Press. [Details]
 
Year
Publication
2020
''Our nameless desires': the erotics of time and space in contemporary Irish lesbian and gay fiction'
Michael G. Cronin (2020) ''Our nameless desires': the erotics of time and space in contemporary Irish lesbian and gay fiction' In: Liam Harte (eds). The Oxford Handbook of Modern Irish Fiction. Oxford: Oxford UP. [Details]
2019
''Eros and Liberation: the homoerotic body in Borstal Boy''
Michael G Cronin (2019) ''Eros and Liberation: the homoerotic body in Borstal Boy'' In: John McCourt (eds). Reading Brendan Behan. Cork: Cork University Press. [Details]
2019
''Rebellious Devotion: Catholicism and the limits of Modernism''
Michael G Cronin (2019) ''Rebellious Devotion: Catholicism and the limits of Modernism'' In: Gregory Castle and Patrick Bixby (eds). A History of Irish Modernism. Cambridge: Cambridge University Press. [Details]
2018
''Between Holyhead and Kingstown': Anglo-Irish perspectives on the 'character' of British fiction'
Michael G. Cronin (2018) ''Between Holyhead and Kingstown': Anglo-Irish perspectives on the 'character' of British fiction' In: Dougal McNeill and Charles Ferrall (eds). Futility and Anarchy?British Literature in Transition, 1920-1940. Cambridge: Cambridge University Press. [Details]
2018
'In the wake of Joyce: Irish writing after 1939'
Cronin M. (2018) 'In the wake of Joyce: Irish writing after 1939' In: The Oxford History of the Novel in English: Volume 7: British and Irish Fiction Since 1940. Oxford: Oxford University Press. [DOI] [Details]
2016
''To Right the Wrong of the People': vulnerability and revolutionary desire in Patrick Pearse's drama''
Michael G. Cronin (2016) ''To Right the Wrong of the People': vulnerability and revolutionary desire in Patrick Pearse's drama'' In: Eugene McNulty and Róisín Ní Ghairbhí (eds). Patrick Pearse and the Theatre. Dublin: Four Courts Press. [Details]
2016
''Pain, pleasure and revolution: the body in Roger Casement's writings.''
Michael G. Cronin (2016) ''Pain, pleasure and revolution: the body in Roger Casement's writings.'' In: Fionnuala Dillane, Naomi McAreavey and Emilie Pine (eds). The Body in Pain in Irish Literature and Culture. Basingstoke: Palgrave Macmillan. [Details]
2015
'Irish studies between the past and the future'
Cronin M. (2015) 'Irish studies between the past and the future' In: Tom Inglis (eds). Are the Irish Different?. Manchester: Manchester University Press. [Details]
2014
'Clubs, closets and catwalks: GAA stars and the politics of contemporary Irish masculinity'
Cronin M. (2014) 'Clubs, closets and catwalks: GAA stars and the politics of contemporary Irish masculinity' In: Masculinity and Irish Popular Culture: Tiger's Tales. [DOI] [Details]
2012
''Fantastic Longings: The Moral Cartography of Kate O'Brien's Mary Lavelle''
Michael G. Cronin (2012) ''Fantastic Longings: The Moral Cartography of Kate O'Brien's Mary Lavelle'' In: Werner Huber, Sandra Mayer and Julia Novak (eds). Irish Studies in Europe, 4. Trier: WVT Wissenschaftlicher Verlag. [Details]
 
Year
Publication
2018
'What We Talk About When We Talk About Sex: Modernization and Sexuality in Contemporary Irish Scholarship'
Cronin, MG (2018) 'What We Talk About When We Talk About Sex: Modernization and Sexuality in Contemporary Irish Scholarship'. Boundary 2, 45 :231-252 [DOI] [full-text] [Details]
2010
'Kate OBrien and the Erotics of Liberal Catholic Dissent'
Michael G. Cronin (2010) 'Kate OBrien and the Erotics of Liberal Catholic Dissent'. Field Day Review, 6 [full-text] [Details]
2004
'He's My Country: Liberalism, Nationalism, and Sexuality in Contemporary Irish Gay Fiction'
Michael G. Cronin (2004) 'He's My Country: Liberalism, Nationalism, and Sexuality in Contemporary Irish Gay Fiction'. ÉIRE-IRELAND, 39 :250-267 [full-text] [Details]
Year
Publication
2013
'Review of Eibhear Walshe Oscars Shadow: Wilde, homosexuality and modern Ireland'
Michael G. Cronin (2013) 'Review of Eibhear Walshe Oscars Shadow: Wilde, homosexuality and modern Ireland' Irish Literary Supplement, 32 . [full-text] [Details]
Year
Publication
2021
Catholicism and literary culture in Scotland, Ireland and England: comparative perspectives.
Michael G Cronin (2021) Catholicism and literary culture in Scotland, Ireland and England: comparative perspectives. [Oral Presentation], 'Holy God/ tis a fearful death': religious feeling, aesthetics and political dissent in Irish Modernism, University of Glasgow (online) , 01-JUN-21 - 02-JUN-21 [Details]
2021
Strange Country: Ireland in politics and culture 1998-2021 (SOFEIR annual conference).
Michael G Cronin (2021) Strange Country: Ireland in politics and culture 1998-2021 (SOFEIR annual conference). [Oral Presentation], 'A chink in the fabric of reality': politics and aesthetics in 'Celtic Tiger' fiction, Université Paris Nanterre (online) , 20-MAY-21 - 21-MAY-21 [Details]
2019
Faces of Change: researching sexuality and gender at Maynooth University.
Michael G Cronin (2019) Faces of Change: researching sexuality and gender at Maynooth University. [Oral Presentation], Erotics and politics of 'closetedness' in Colm Tóibín's fiction, Maynooth University [Details]
2019
Columbia Irish Studies Seminar.
Michael G Cronin (2019) Columbia Irish Studies Seminar. [Invited Lecture], The Political Imagination of Irish Lesbian and Gay Fiction, Columbia University, New York [Details]
2019
Dublin One City, One Book Festival.
Michael G Cronin (2019) Dublin One City, One Book Festival. [Public presentations], The Country Girls and the Coming of Age Novel: a public event chaired by Michael G Cronin, Peasre St Public Libraray, Dublin [Details]
2019
OUTing the Past:the Festival of LGBT History.
Michael G Cronin (2019) OUTing the Past:the Festival of LGBT History. [Invited Oral Presentation], Queering the Rising: presentation on Roger Casement and Patrick Pearse, National Gallery of Ireland, Dublin [Details]
2018
32nd Irish Conference of Historians.
Michael G Cronin (2018) 32nd Irish Conference of Historians. [Keynote Address], Sex, class and hegemony in twentieth-century Ireland, UCC [Details]
2018
Dublin Joyce Summer School.
Michael G Cronin (2018) Dublin Joyce Summer School. [Invited Lecture], 'Sexuality, human needs and the political imagination in Portrait.', UCD/The James Joyce Centre [Details]
2017
Invited speaker for Irish Literary Society in London.
Michael G Cronin (2017) Invited speaker for Irish Literary Society in London. [Oral Presentation], Writing Irish Gay Lives, London [Details]
2017
Competing Traditions: 20th and 21st Century Irish Literatures between Realism and Experimentation.
Michael G Cronin (2017) Competing Traditions: 20th and 21st Century Irish Literatures between Realism and Experimentation. [Oral Presentation], Strumpet City and the historical novel as untimely critique, University of Lodz, Poland [Details]
2016
Revolutionary Masculinities.
Michael G. Cronin (2016) Revolutionary Masculinities. [Oral Presentation], Pain, pleasure and revolution: the body in Roger Casement's writing, Maynooth University [Details]
2016
XXV International James Joyce Conference.
Michael G. Cronin (2016) XXV International James Joyce Conference. [Oral Presentation], The influence of 'Portrait' on Post-Independence Irish Writing, University of London [Details]
2016
All's Changed: 1916 and Modernism.
Michael G. Cronin (2016) All's Changed: 1916 and Modernism. [Oral Presentation], 'Patrick Pearse: aesthetics and erotics of heroic masculinity', Maynooth University [Details]
2016
Marginal Irish Modernisms.
Michael G. Cronin (2016) Marginal Irish Modernisms. [Oral Presentation], Forrest Reid: aesthetics and erotics of colonial modernity, Liverpool John Moores University [Details]
Year
Publication
2015
Review of Rosemary Hennessy, Fires on the Border: the passionate politics of labor organising on the Mexican frontera and James Penney, After Queer Theory: the limits of sexual politics. .
Michael G. Cronin (2015) Review of Rosemary Hennessy, Fires on the Border: the passionate politics of labor organising on the Mexican frontera and James Penney, After Queer Theory: the limits of sexual politics. . Book Review [Details]
2014
Review of Munkelt et. al. (eds.) Postcolonial translocations: cultural representation and critical spatial thinking .
Michael G. Cronin (2014) Review of Munkelt et. al. (eds.) Postcolonial translocations: cultural representation and critical spatial thinking . Book Review [DOI] [Details]
2014
Review of Mark Quigley, Empire's Wake: postcolonial Irish writing and the politics of modern literary form.
Michael G. Cronin (2014) Review of Mark Quigley, Empire's Wake: postcolonial Irish writing and the politics of modern literary form. Book Review [Details]
2014
Review of Stuti Khanna, The Contemporary Novel and the City: reconceiving national and narrative form .
Michael G. Cronin (2014) Review of Stuti Khanna, The Contemporary Novel and the City: reconceiving national and narrative form . Book Review [Details]
2013
Review of Joseph Valente, The Myth of Manliness in Irish National Culture, 1880-1922.
Michael G. Cronin (2013) Review of Joseph Valente, The Myth of Manliness in Irish National Culture, 1880-1922. Book Review [full-text] [Details]
2013
Irish Review (Special Issue: Criticism and the Crash).
Michael G. Cronin (guest editor) (2013) Irish Review (Special Issue: Criticism and the Crash). Book Review [Details]