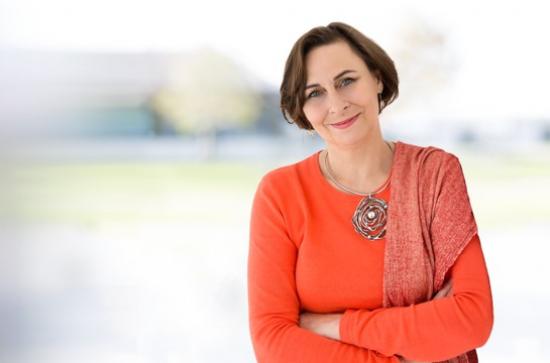 Associate Professor
On Sabbatical for Academic Year 2021-22
Iontas Building
0.39 Iontas
(01) 708 4607
During the 2021 autumn semester, I am the
Visiting Professor In Irish Studies
at the
Centre for Irish Studies at Boston College
, which is a leading global institute in Irish Studies.
I am
Associate Dean for Equality, Diversity, Inclusion & Interculturalism
, Faculty of Arts, Celtic Studies and Philosophy. I share this role with my colleague, Dr Catherine Gander; we submitted a pioneering co-application for the position of Associate Dean to create possibilities and models for a gender-responsive and flexible method of collaborative leadership. In my role as EDI Associate Dean, I am also the
co-chair of the Faculty Self-Assessment Team for the Athena SWAN Bronze Award
application and the
first chair of the Implementation Group for the Gender Action Plan
.
A long-standing and deep commitment to equality, inclusion, and diversity has been a core value of my work in research, teaching, and service. My work has focused on diversifying culture by examining cultural gender gaps, ableism, and by mapping the overlooked and unseen maternal imaginaries -- or, in other words, the shapes and practices of motherhood so often unnamed in culture. I have examined intersections of these areas in the fields of Irish writing, as well as contemporary poetry, fiction, art, and popular culture more broadly, and I have published extensively in these areas. These diverse practices are linked in my work by my consistent engagement with social and environmental justice and the psychoanalytic approach I take. This critical lens is eclectic, drawing on Object Relations, Lacanian, Anglo-American feminist as well as French feminist and Jungian psychoanalytical approaches.
The psychoanalytical lens allows for experiential and affective topologies to be linked to wider cultural practices. Recent research in trauma studies, neuroscience, and evolutionary biology have refreshed this practice, and this combined with ecofeminism and queer ecology, as well as indigenous and feminist economic models of rematriation and gift economies, can help create responsive critical paradigms for understanding and integrating the innovative work of artist/activists seeking a sustainable future in which issues of social justice can be meaningfully addressed. I see this as part of the wider scholarly search for new modes of critical engagement to respond to the innovative ways in which artists and writers cross genre boundaries and merge modalities to create the interventions needed for the urgent crises that the planet currently faces.
Inclusion and diversity have also been driving principles in my teaching practice. In my work in Japan, at UCD, and at MU, I have created accessible, enabling, supportive, and motivating learning environments, a commitment recognized in a USI and National Forum
National Teaching Hero Award 2021
, and in my selection as an
Advance HE Innovative Assessment Torch Bearer.
The service roles I have pursued that include
Associate Dean for Equality, Diversity, Inclusion & Interculturalism, MAP Officer
, and
Co-Chair of FACSP Athena Swan Committee
reflect my dedication to equality across all sectors of university life.
I have supervised PhDs on motherhood and reproductive politics, gender, aging, and sexuality in fiction, drama, art, and poetry, performance art, and I welcome Ph.D. proposals in these and any of the other areas listed in my research fields. As a former
Fulbright Scholar in Irish Studies
at
UC Berekely (2009), I have served as a
Fulbright
mentor and am currently a mentor on the Horizon 2020-funded
Mothernet
project, and I welcome applications from post-doctoral fellows.
I am currently PI on the IRC-funded project
Mamecology
, in which I partner with the Irish Cancer Society (ICS).
Mamecology
is a curated virtual exhibition of artistic responses to breast cancer by both established artists and writers and by those who have turned to creative practices when faced with a diagnosis. Including writing, visual art practices, music, and performance, and it gathers expressions of the inner life of patients and loved ones, and provides a rich resource to assist with 'living well with, and through, cancer' (ICS). I am a former director of two MU Arts and Humanities research clusters (2011- 2015), a founding member of MU's
Motherhood Project,
which has successfully attracted funding from MU's Arts and Humanities Institute (AHI), and a member of
Mothernet,
a Horizon 2020 Twinning Project between MU, Vilnius University, Lithuania and Uppsala University, Sweden.
https://www.linkedin.com/in/moynaghsullivan/
@MoynaghSulliva
@mamecologyart
@Mother_Cultures
@mother_net
Literary and Cultural Theory: Intersectionality; Gender and Feminist Theory; Disability Studies; Eco- Criticism; Graphic Fiction: Contemporary Poetry; Contemporary Fiction; Popular Culture
|   | Graduation | Student Name | University | Degree | Thesis |
| --- | --- | --- | --- | --- | --- |
| | 2011 | Maggie O'Neill | Maynooth University | PhD | 'The Politics of Desire in Kate O Brien and Elizabeth Bowen' |
| | 2010 | Sharon Tighe-Mooney | Maynooth University | PhD | 'Nun, Married, Old Maid': Women and Catholicism in the Novels of Kate O Brien |
| | 2019 | Brenda O'Connell | Maynooth University | PhD | Motherhood, Female Ageing and Samuel Beckett |
| | 2019 | Claire Brophy | Maynooth University | PhD | Anne Enright and Reproductive Politics |
| | 2019 | Amy Mitchell | Maynooth University | PhD | Masculinities, Gender and Seán Ó Ríordáin. |