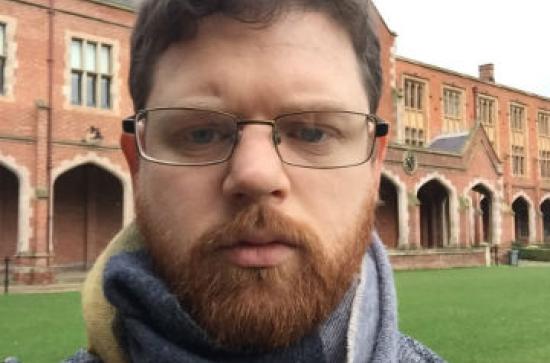 Lecturer
Assistant Professor
New House
206
(01) 4747772
Dr Oisin Suttle joined the department as Assistant Professor of Law in 2019.

Oisin's research interests are primarily in international law, including in particular international trade law, and legal and political theory. His work addresses fundamental political and moral questions in international economic governance, including how we should understand the demands of justice and equality in the international economy, what grounds the legitimate authority of international laws and courts, and what role moral concerns should play in the interpretation of international treaties. His 2017 book, Distributive Justice and World Trade Law: A Political Theory of International Economic Law (2017, Cambridge), was awarded the prestigious Peter Birks Prize for Oustanding Legal Scholarship by the Society of Legal Scholars. Other work has been published in leading international journals, including the European Journal of International Law, the Modern Law Review, and International & Comparative Law Quarterly.

Before joining Maynooth University Oisin taught at Queen's University Belfast (2017-19), the University of Sheffield (2014-17) and University College London (2012-14). He holds degrees in law (University College Dublin) and international relations (University of Oxford), and a Ph.D. on the philosophy of international economic law (University College London). He previously practiced commercial law with a leading Dublin law firm, and is qualified as a solicitor both in Ireland and in England and Wales.
International Economic Law
Legal and Political Theory
Public International Law

My current research includes projects examining:
- the moral foundations of competition law and claims of competitive fairness in domestic and international law;
- the potential grounds of legitimate authority of investment law and investment arbitration, and their implications for the scope of investment law and harmonisation efforts;
- the role that values should and/or must play in treaty interpretation, and their implications for moral theorising of substantive areas of international law.
Year
Publication
2018
Distributive Justice and World Trade Law: A Political Theory of International Trade Regulation.
Suttle, Oisin (2018) Distributive Justice and World Trade Law: A Political Theory of International Trade Regulation. Cambridge, UK: Cambridge University Press. [Details]
 
Year
Publication
2022
'The Puzzle of Competitive Fairness'
Oisin Suttle (2022) 'The Puzzle of Competitive Fairness'. Politics, Philosophy and Economics, [full-text] [Details]
2021
'On Trade Justice, Power and Institutions - Some Questions for Risse and Wollner'
Suttle, O (2021) 'On Trade Justice, Power and Institutions - Some Questions for Risse and Wollner'. Moral Philosophy And Politics, [DOI] [Details]
2021
'Justice and Authority in Investment Protection'
Suttle, O (2021) 'Justice and Authority in Investment Protection'. Law and Development Review, [DOI] [Details]
2019
'Rules and Values in International Adjudication: The Case of the WTO Appellate Body'
Suttle, Oisin (2019) 'Rules and Values in International Adjudication: The Case of the WTO Appellate Body'. International and Comparative Law Quarterly, 68 (2) [DOI] [full-text] [Details]
2017
'What Sorts of Things are Public Morals? A Liberal Cosmopolitan Approach to Article XX GATT'
Suttle, Oisin (2017) 'What Sorts of Things are Public Morals? A Liberal Cosmopolitan Approach to Article XX GATT'. The Modern Law Review, 80 (4):569-599 [DOI] [full-text] [Details]
2016
'Law as Deliberative Discourse: The Politics of International Legal Argument - Social Theory with Historical Illustrations'
Suttle, Oisin (2016) 'Law as Deliberative Discourse: The Politics of International Legal Argument - Social Theory with Historical Illustrations'. Journal of International Law and International Relations, 12 (1):151-203 [full-text] [Details]
2016
'Debt, Default, and Two Liberal Theories of Justice'
Suttle, Oisin (2016) 'Debt, Default, and Two Liberal Theories of Justice'. German Law Journal, 17 (5) [DOI] [full-text] [Details]
2014
'Equality in Global Commerce: Towards a Political Theory of International Economic Law'
Suttle, Oisin (2014) 'Equality in Global Commerce: Towards a Political Theory of International Economic Law'. European Journal of International Law, 25 (4):1043-1070 [DOI] [full-text] [Details]
2014
'Book Review Essay: Poverty and Justice: Competing Lenses on International Economic Law'
Oisin Suttle (2014) 'Book Review Essay: Poverty and Justice: Competing Lenses on International Economic Law'. The Journal of World Investment & Trade, 15 (5-6):1071-1086 [full-text] [Details]
 
Year
Publication
2021
'The Doctrinal Approach of Common Concern'
Suttle, Oisin (2021) 'The Doctrinal Approach of Common Concern' In: The Prospects of Common Concern of Humankind in International Law. Cambridge, UK: Cambridge University Press. [Details]
2020
'Reasons, Institutions, Authorities: Three Models of Exceptions in World Trade Law'
Suttle, Oisin (2020) 'Reasons, Institutions, Authorities: Three Models of Exceptions in World Trade Law' In: Bartels, Lorand and Paddeu, Federica (eds). Exceptions and Defences in International Law. Oxford, United Kingdom: Oxford University Press. [Details]
Year
Publication
2021
CETA, Investment Courts and the Irish Constitution - International, European and Constitutional Law.
Oisin Suttle (2021) CETA, Investment Courts and the Irish Constitution - International, European and Constitutional Law. [Conferences hosted], Online Public Workshop with Six International Academic Presenters, Maynooth University [Details]
2021
Doing Good vs Not Doing Bad: Consent, Baselines and Duties in Bilateral Trade Agreements.
Oisin Suttle (2021) Doing Good vs Not Doing Bad: Consent, Baselines and Duties in Bilateral Trade Agreements. [Invited Oral Presentation], International Law and Political Morality: 'Anti-positivism' and the Global Legal Order, Leeds Law School [Details]
2020
Two Positivisms and Authority in International Adjudication.
Suttle, Oisin (2020) Two Positivisms and Authority in International Adjudication. [Keynote Address], Society of Legal Scholars Annual Conference, Exeter / Onlin [Details]
2020
Doing Good vs Not Doing Bad: Duties and Baselines in Bilateral Trade Agreements.
Suttle, Oisin (2020) Doing Good vs Not Doing Bad: Duties and Baselines in Bilateral Trade Agreements. [Invited Oral Presentation], EUTIP Workshop on the EU as a Good Global Actor, City University London / Online [Details]
2020
The Puzzle of Competitive Fairness.
Suttle, Oisin (2020) The Puzzle of Competitive Fairness. [Invited Oral Presentation], Dublin Political Theory Workshop, University College Dubline [Details]
2019
Global Justice and International Trade – From Philosophy to Law.
Suttle, Oisin (2019) Global Justice and International Trade – From Philosophy to Law. [Invited Lecture], Max Weber Occasional Lecture, European University Institute, Florence [Details]
2019
Authority and Interpretation in Investment Protection:Reasons, Rationality and Social Justice.
Suttle, Oisin (2019) Authority and Interpretation in Investment Protection:Reasons, Rationality and Social Justice. [Oral Presentation], Society of Legal Scholars Annual Conference, UCLan Preson [Details]
2019
Authority and Interpretation in Investment Protection: Reasons, Rationality and Social Justice.
Suttle, Oisin (2019) Authority and Interpretation in Investment Protection: Reasons, Rationality and Social Justice. [Invited Oral Presentation], iCourts Conference 'The Power of International Courts', University of Copenhagen [Details]
2019
The Puzzle of Competitive Fairness and the Justification of (Non-Sovereign) Power.
Suttle, Oisin (2019) The Puzzle of Competitive Fairness and the Justification of (Non-Sovereign) Power. [Oral Presentation], European Consortium for Political Research Joint Sessions, Workshop on 'Sovereignty, Justice and International Law, UCL Mons [Details]
2018
What a Difference a Court Makes: Authority and Interpretation in International Investment Adjudication.
Suttle, Oisin (2018) What a Difference a Court Makes: Authority and Interpretation in International Investment Adjudication. [Invited Oral Presentation], Pluricourts Workshop on Reforms of International Investment Arbitration: Philosophical Perspectives, University of Oslo [Details]
2018
Thick and thin moralities and legitimacy in international adjudication – the case of the WTO Appellate Body.
Suttle, Oisin (2018) Thick and thin moralities and legitimacy in international adjudication – the case of the WTO Appellate Body. [Oral Presentation], ICON-S Annual Conference 'Identity, Security, Democracy: Challenges for Public Law', University of Hong Kong [Details]
2018
Income and Wealth Distribution as a Common Concern: A Response.
Suttle, Oisin (2018) Income and Wealth Distribution as a Common Concern: A Response. [Invited Oral Presentation], Towards a Principle of Common Concern in Global Law, World Trade Institute, Berne [Details]
2018
Thick and thin moralities and legitimacy in international adjudication – the case of the WTO Appellate Body.
Suttle, Oisin (2018) Thick and thin moralities and legitimacy in international adjudication – the case of the WTO Appellate Body. [Invited Oral Presentation], PluriCourts Workshop Political and Legal Theory of International Courts and Tribunals, University of Oslo [Details]
2018
Distributive Justice and World Trade Law.
Suttle, Oisin (2018) Distributive Justice and World Trade Law. [Invited Lecture], Symposium on Distributive Justice and World Trade Law: A Political Theory of International Trade Regulation', University of Edinburgh [Details]
2018
Distributive Justice and World Trade Law.
Suttle, Oisin (2018) Distributive Justice and World Trade Law. [Invited Lecture], Book Launch Seminar on 'Distributive Justice and World Trade Law: A Political Theory of International Trade Regulation', University College London [Details]
2017
Annual Meeting of the International Association of Legal and SociAnnual Meeting of the International Association of Legal and Social Philosophy (IVR) UK Branchal Philosophy (IVR) UK Branch.
Oisin Suttle and Dimitrios Tsarapatsanis (2017) Annual Meeting of the International Association of Legal and SociAnnual Meeting of the International Association of Legal and Social Philosophy (IVR) UK Branchal Philosophy (IVR) UK Branch. [Conferences hosted], Law Rationality and the Market, University of Sheffield [Details]
2017
The Authority Claims of International Institutions and International Courts: A Response.
Suttle, Oisin (2017) The Authority Claims of International Institutions and International Courts: A Response. [Invited Oral Presentation], University College Dublin / iCourts University of Copenhagen workshop on 'Legal Authority Beyond the State', Dublin [Details]
2017
Revisiting the Foundations of International Economic Law: A research agenda for post-Trump International Economic Law Scholarship.
Suttle, Oisin (2017) Revisiting the Foundations of International Economic Law: A research agenda for post-Trump International Economic Law Scholarship. [Oral Presentation], Georgetown Institute of International Economic Law / Graduate Institute of International and Development Studies, Annual WTO Conference, Geneva [Details]
2017
On the normative content of unfair trade.
Suttle, Oisin (2017) On the normative content of unfair trade. [Oral Presentation], International Association of Legal and Social Philosophy (IVR) UK Branch Annual Conference, University of Sheffield [Details]
2016
Formalists by Default: A Constructivist Solution to Antidumping's Interpretive (and Legitimacy) Problems.
Suttle, Oisin (2016) Formalists by Default: A Constructivist Solution to Antidumping's Interpretive (and Legitimacy) Problems. [Oral Presentation], American Society of International Law International Economic Law Interest Group Biennial Meeting, Washington DC [Details]
2016
The Puzzle of Competitive Fairness.
Suttle, Oisin (2016) The Puzzle of Competitive Fairness. [Oral Presentation], International Association of Legal and Social Philosophy (IVR) UK Branch Annual Conference, Leeds [Details]
2015
What sorts of things are Public Morals? A Liberal Cosmopolitan Account of Article XX GATT.
Suttle, Oisin (2015) What sorts of things are Public Morals? A Liberal Cosmopolitan Account of Article XX GATT. [Oral Presentation], Junior Faculty Forum for International Law, European University Institute, Florence [Details]
2015
International Debt, Sovereign Default and Two Liberal Theories of Justice.
Suttle, Oisin (2015) International Debt, Sovereign Default and Two Liberal Theories of Justice. [Invited Oral Presentation], Max Planck Institute for Comparative Public Law and International Law, Workshop on Democracy and Financial Orders, Frankfurt [Details]
2014
Fair Trade, Trade Remedies and the World Trade Organization.
Suttle, Oisin (2014) Fair Trade, Trade Remedies and the World Trade Organization. [Oral Presentation], University College Dublin Workshop on WTO Law, Dublin [Details]
2014
The Public Morals Exception: A Liberal Cosmopolitan Perspective.
Suttle, Oisin (2014) The Public Morals Exception: A Liberal Cosmopolitan Perspective. [Invited Oral Presentation], British Institute of International and Comparative Law Annual Conference on WTO Law, London [Details]
2013
Three Faces of Coercion: Towards a Mixed Theory of Equality in Global Commerce.
Suttle, Oisin (2013) Three Faces of Coercion: Towards a Mixed Theory of Equality in Global Commerce. [Oral Presentation], Brave New World, University of Manchester Centre for Political Theory, Manchester [Details]
2012
Cooperation and Coercion – Towards a Political Theory of International Economic Law.
Suttle, Oisin (2012) Cooperation and Coercion – Towards a Political Theory of International Economic Law. [Oral Presentation], American Society of International Law International Economic Law Interest Group Biennial Meeting, Washington DC [Details]
2012
Cooperation and Coercion: Justice, Exclusion and Equality in Global Commerce.
Suttle, Oisin (2012) Cooperation and Coercion: Justice, Exclusion and Equality in Global Commerce. [Oral Presentation], Northeastern University Workshop in Applied Philosophy 'Global Justice and Ethics of Exclusion', Boston [Details]
2008
Constraints on Collective Outcomes in EU-ACP Economic Partnership Agreement Negotiations.
Suttle, Oisin (2008) Constraints on Collective Outcomes in EU-ACP Economic Partnership Agreement Negotiations. [Oral Presentation], Oxford University / German Marshall Fund Workshop on EPAs and Development, Oxford [Details]
Year
Publication
2021
CETA and the Investor Court System: Submission to the Joint Oireachtas Committee on European Union Affairs.
Suttle, O (2021) CETA and the Investor Court System: Submission to the Joint Oireachtas Committee on European Union Affairs. Oireachtas, Dublin. [full-text] [Details]
Year
Publication
2021
Why the EU and Canada's CETA deal is not just another treaty.
Oisin Suttle (2021) Why the EU and Canada's CETA deal is not just another treaty. Newspaper Articles [Details]
2021
Comment: CETA offers us the hand-rolled cigarette of international investment law.
Suttle, Oisin (2021) Comment: CETA offers us the hand-rolled cigarette of international investment law. Newspaper Articles [Details]
2021
Domestic law makers far better placed than CETA's investment courts to judge policy choices.
Oisin Suttle & John Reynolds (2021) Domestic law makers far better placed than CETA's investment courts to judge policy choices. Newspaper Articles [Details]
2018
Trade Wars: What's the Meaning of Unfair Trade.
Suttle, Oisin (2018) Trade Wars: What's the Meaning of Unfair Trade. Newspaper Articles [Details]
Year
Publication
2009
Regulating Illegal Material on the Internet: The European Legislative Landscape.
Suttle, Oisin (2009) Regulating Illegal Material on the Internet: The European Legislative Landscape. Dublin: Working Paper [Details]
Year
Publication
2014
Equality in Global Commerce: Towards a Political Theory of International Economic Law.
Suttle, Oisin (2014) Equality in Global Commerce: Towards a Political Theory of International Economic Law. Podcast [Details]
| | Year | Title | Awarding Body |
| --- | --- | --- | --- |
| | 2019 | Peter Birks Prize for Outstanding Legal Scholarship | Society of Legal Scholars |