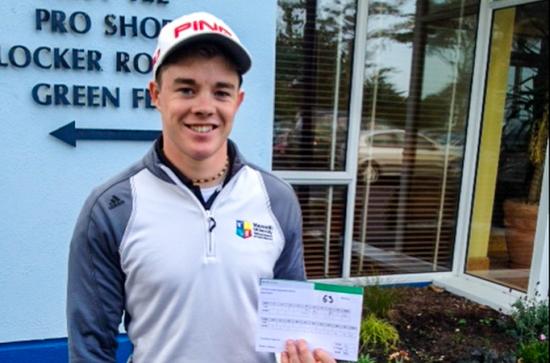 Thursday, April 21, 2016 - 14:00
Stuart Grehan, a second year Entrepreneurship student and Paddy Harrington Golf Scholar at Maynooth University, has been selected to represent Team Europe at the 2016 Arnold Palmer Cup—the international event with a Ryder Cup-style format that brings together the top eight collegiate players in Europe to take on their counterparts from the United States.
Commenting on his selection for Team Europe, Stuart Grehan observed: "It is a tremendous honour to be selected amongst Europe's top collegiate golfers. I'd like to thank the coaches, Maynooth University, and everyone who has supported me in getting to this point. It promises to be a tough challenge – the United States currently leads the all-time series 10-8-1—but I'm very excited to join my teammates for a great weekend of golf, play to the best of my ability, and hopefully finish up with a good result."
Maynooth University Golf Manager Barry Fennelly said: "We are absolutely delighted for Stuart that he has been selected for the Palmer Cup. When the Paddy Harrington Golf Scholarship was established, it was with the aim of cultivating a culture of excellence here at Maynooth and ensuring that talented Irish young golfers did not have to go the States to receive a top class education and pursue their dreams of playing golf at the highest level. There's been a lot of effort put in by many people to make this a reality, but the young players we are seeing coming through now are a testament to the success we've achieved."
Since the first tournament in 1997, the Arnold Palmer Cup has been a showcase for some of the world's most promising young talent. More than 90 former competitors have gone on to earn cards on either the PGA or the European Tours. Stuart Grehan joins an illustrious list of participants to compete in the tournament that includes: Graeme McDowell, Peter Lawrie, Rickie Fowler and Luke Donald.
This year's event will be played at Formby Golf Club in England on 24-26 June. Formby is renowned as one of the great links courses and has hosted some of the principal events of amateur golf. The first Palmer Cup was played at Arnold Palmer's own Bay Hill Club in Orlando, Florida, and since then it has been held in some of the most historic venues in world golf, including St Andrews, Royal County Down, and Doonbeg.
Maynooth University Golf Scholars have now represented Team Europe on three of the last four Arnold Palmer Cup matches, with Gary Hurley representing the University in 2013 and 2015. The University launched its golf scholarship in 2006, following the success of the European Team at the Ryder Cup, held at the nearby K Club. This scholarship has been key to the University establishing itself on an international level, and Stuart Grehan will be competing against players from the top US universities for golf, including Vanderbilt and Stanford.

Scoláire Gailf le hionadaíocht a dhéanamh ar Eoraip i gCorn Arnold Palmer
Tá Stuart Grehan, mac léinn na dara bliana ar chúrsa Fiontraíochta in Ollscoil Mhá Nuad agus scoláire gailf Paddy Harrington, roghnaithe le hionadaíocht a dhéanamh ar Fhoireann an hEorpa ag Corn Arnold Palmer 2016 – tá an struchtúr céanna in úsáid ag an ócáid idirnáisiúnta seo is a bhíonn in úsáid ag an gCorn Ryder. Tugtar ochtar imreoirí ollscoile ón Eoraip le chéile le haghaidh a thabhairt ar ochtar imreoirí ó na Stáit Aontaithe.
Agus é ag labhairt faoina roghnúchán ar Fhoireann na Eorpa, dúirt Stewart Grehan: "Is mór an onóir dom é a bheith roghnaithe mar dhuine de na galfairí ollscoile is fearr san Eoraip. Ba mhaith liom buíochas a ghabháil leis na cóitseálaithe, le hOllscoil Mhá Nuad agus leis na daoine a chabhraigh liom an méid seo a bhaint amach. Dúshlán mór a bheidh ann – faoi láthair, tá na Stáit Aontaithe chun tosaigh sa tsraith, 10 – 8 – 1, – ach táim ar bís faoin ócáid agus ag súil go mór le deireadh seachtaine den scoth a chaitheamh ag imirt gailf. Déanfaidh mé mo sheacht ndícheall agus táim ag súil go mbainfidh mé toradh maith amach."

Dúirt Barry Fennelly, Bainisteoir Gailf Ollscoil Mhá Nuad: "Tá ríméad orainn gur roghnaíodh Stuart don Chorn Palmer. Nuair a bunaíodh Scoláireacht Ghailf Paddy Harrington, ba í an aidhm a bhí léi cultúr barr feabhais a chothú ionas nach mbeadh ar imreoirí óga agus tallainne as Éirinn dul go dtí na Stáit Aontaithe le hoideachas den scoth a fháil agus le dul sa tóir ar an deis galf a imirt ag an leibhéal is airde. Tá iarracht mhór déanta ag go leor daoine na deiseanna seo a chruthú ach is léir ó na himreoirí óga atá ag teacht tríd an gcóras go bhfuil rath ar an tionscadal."

Taispeántas atá sa Chorn Arnold Palmer d'imreoirí óga ó áiteanna ar fud na cruinne a bhfuil bua an ghailf acu. Thosaigh an comórtas sa bhliain 1997. Tá cárta ar an Turas PGA nó ar an Turas Eorpach bainte amach ag breis agus 90 iariomaitheoir. Beidh Stuart ar liosta na n-imreoirí a bhfuil páirt glactha acu sa chomórtas seo, beidh a ainm ar an liosta céanna leis na galfairí mór le rá Graeme Mc Dowell, Peter Lawrie, Rickie Fowler agus Luke Donald.

Imreofar cluichí na bliana seo idir 24 – 26 Meitheamh i gClub Gailf Formby i Sasana. Is galfchúrsa dumhcha mór le rá é Formby agus reáchtáladh cuid de na príomhimeachtaí amaitéaracha ann. Imríodh an chéad Chorn Palmer ag Cumann Bay Hill in Orlando, Florida agus ó shin i leith, reáchtáladh an comórtas i gcuid de na hionaid is stairiúla go domhanda ó thaobh gailf de - St. Andrews, Club Ríoga Gailf Chontae an Dúin, An Dún Beag.

Tá ionadaíocht déanta ag Scoláirí Gailf Ollscoil Mhá Nuad ar Fhoireann na hEorpa i dtrí chluiche as an gceithre chluiche deireanach a reáchtáladh mar chuid den Chorn Arnold Palmer. Rinne Gary Hurley ionadaíocht ar an bhfoireann ar son na hOllscoile sa bhliain 2013 agus sa bhliain 2015. Sheol an Ollscoil a scoláireacht ghailf sa bhliain 2006, ina dhiaidh don fhoireann Eorpach bua a bhreith ag an gCorn Ryder. Reáchtáladh an comórtas sin ag an gClub K atá lonnaithe in aice láithreach. Chabhraigh an scoláireacht seo go mór leis an Ollscoil aitheantas a bhaint amach ag leibhéal idirnáisiúnta. Beidh Stuart Grehan ag dul san iomaíocht le himreoirí ó na hollscoileanna is fearr ó thaobh gailf de, Vanderlbilt agus Stanford san áireamh.