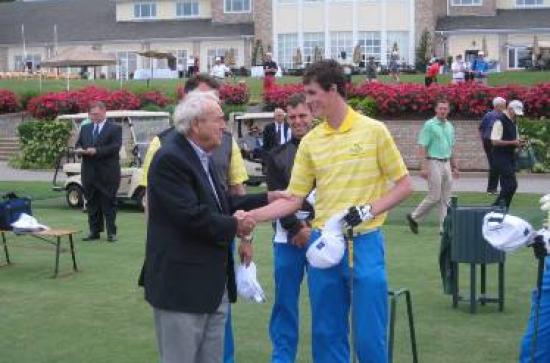 Tuesday, December 17, 2013 - 00:00
Harrington Golf Scholar at Maynooth University - Gary Hurley (2nd year Business & Management) has been invited to compete and represent Maynooth University in the third annual Patriot All-America Invitational to be held on December 29-31, 2013 at The Wigwam Resort in Litchfield Park, Arizona, USA. The event also know as Golf's "Bowl Experience" is known for its pageantry which includes parachute landings by the Wings of Blue Parachute Team, and F-16 flyovers. The tournament is a 54 holes amateur stroke play event and has an "A" rating from the World Amateur Golf Ranking (WAGR) now recognised as one of the top 35 tournaments worldwide by elite amateur golfers.

The field is limited to a field of eighty four players and invitations are primarily based on the following grounds: individuals earning PING All-America honours the previous season in NCAA Divisions I, II and III as well as the NAIA and NJCAA Divisions I and II. Additionally, a member from the United States Military, Naval and Air Force Academies are invited as well as GCAA national award recipients, members of the most recent Palmer Teams, AJGA All-Americans and Toyota Junior Golf World Cup participants currently enrolled in their freshman year of college.

Gary's invitation to the prestigious event is on the back of his selection for the European Palmer Cup Team held last June held at Wilmington Golf Club in Philadelphia where the top collegiate players from America overcame their European counterparts by 20.5pts to 9.5pts margin. Hurley's selection for the Palmer Cup was history in the making after he won the coveted R&A Scholars' Bursars' Tournament last April in a thrilling one hole playoff at the famous Old Course at St. Andrews in Scotland. In doing so, he established himself as the first Irish based collegiate golfer to be selected for the European Palmer Cup.
For Hurley, there is more history attached to next week's event as he will be honouring an Irish war veteran named John Mansfield as part of the tournament tradition through the event's charitable organisation the Folds of Honour foundation. Mansfield emigrated to New York in 1924 and enlisted in the American Army and served with the 4th Armoured Division Third Army in the Second World War from April 1942 until 1945. He earned twenty seven honourable medals and received the Purple Heart Award for wounds received in action in France in 1944.
It is tradition that each participant represents a fallen military service member with their golf bag emblazoned with the name and branch of service of a military member. Golf bag sponsors PING have created a uniquely Irish bag for Gary to honour the war veteran a fellow native of Hurley's from Dungarven, Co. Waterford. At the conclusion of the event, participants golf bags will be auctioned by the respective athletic departments of participating students - athletes with all proceeds designated for the Folds of Honor Foundation.
Gary will leave for Arizona on St. Stephen's Day accompanied by Barry Fennelly (Maynooth University, Golf Manger). Gary's progress at the event can be followed online at http://patriotallamerica.com/