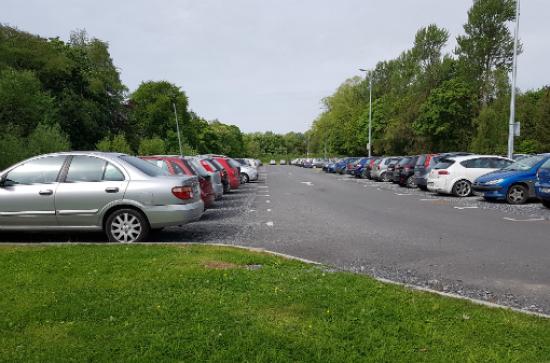 Thursday, August 16, 2018 - 12:15
At the request of the National Transport Authority (NTA), both Maynooth University and St. Patrick's College Maynooth have agreed to provide parking for the Papal Mass on Sunday, 26 August, 2018 on campus grounds to facilitate a park-and-ride using the train.
This is a major undertaking involving multiple government agencies including the Army, the Gardaí, the NTA and Office of Public Works (OPW). Event parking on the campus grounds will be managed by the OPW and limited to parking ticket holders.
Vehicles with parking tickets will be accessing the grounds from the roundabout off the Kilcock Road where they will be directed to parking locations. Vehicle occupants will then be directed through campus to the railway station.
In order to facilitate these parking arrangements, the grounds of both the College and University will be closed to vehicular traffic for the day, except for staff who are working on that day who have made prior arrangements to cater for them. To make such arrangements, please call the Campus Services Helpdesk on Extn. 3930.
Other details to note:
- Pedestrian access to the grounds at the rear of the College will be restricted also.
- Vehicular access into the College from Parsons Street will be restricted to staff working on the day in catering, MCCA (Staff and Residents), the Power House, other staff who have made prior arrangements and a number of buses.
- Limited parking will be available for those working on the North campus in catering, the apartments (MCCA), security staff, other staff who have made prior arrangements and the Gardaí.

- Some parking will be held at the apartments for residents, many of whom will be attending the World Amateur Golf Tournament being held at Carton House, and for staff who have to work in the laboratories with access through the Moyglare gate.
- Please note the Gardaí will implement traffic restrictions around Maynooth town. Please visit Papal Visit Sunday 26th August 2018 for further details.
Should you have any queries or concerns please contact Campus Services.