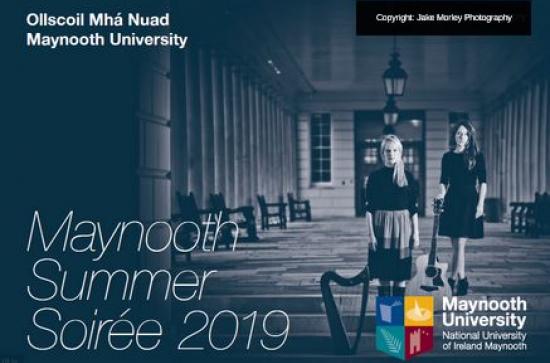 Thursday, June 20, 2019 -

19:00

to

21:30
Aula Maxima, Maynooth University
Maynooth Summer Soirée 2019 - I Remember You Well...The Webb Sisters and special guests perform and remember Leonard Cohen with John MacKenna
Due to popular demand, this event is now sold out. If you'd like know about other events at MU, be sure to register online here.
Join us on 20th June for a special evening of music, reflection and performance at Maynooth University with The Webb Sisters, former backing vocalists to Leonard Cohen. The evening will feature a performance by Charley and Hattie Webb, interspersed by conversation with author, poet, playwright and good friend of Leonard's, John MacKenna. Joining the festivities will be novelist and poet Dermot Bolger and renowned songwriter and musician Kevin Doherty, with the line-up completed by our very own alumnus—academic, writer and activist Dr Bríd Connolly.

This year's Summer Soirée is jointly hosted by the Department of Adult and Community Education and the Development and Alumni Relations Office. It marks the end of this year's BA in Community Studies Summer School on 'Popular Culture and the Making of Meaning.' The event celebrates and embraces the participatory and communal ethos that lie at the heart of MU's programmes for lifelong learning.
With a nod to contemporary culture and the Irish parlour experience of music and chat amongst old friends, Soirée 2019 is not to be missed. So invite a friend and begin your summer with an evening at MU. Tickets cost €20 p.p. and a complimentary glass of wine on registration will get this entertaining and enlightening evening off to a great start.
We look forward to seeing you there.