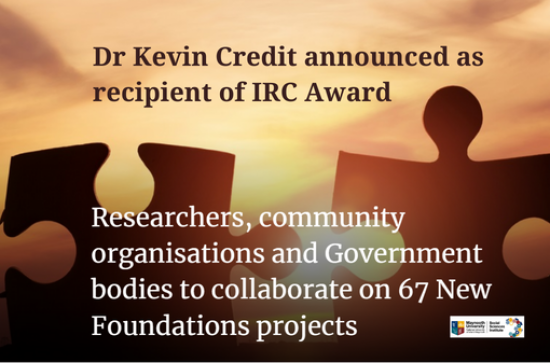 Wednesday, February 15, 2023 - 13:45
Dr Kevin Credit is one of 67 New Foundations IRC research awardees for his new project where he will work with Robert Emmet Community Development Project, to create a Health and Environment Data Dashboard for D8.
New Foundations awards help civic society organisations and Government departments to devise evidence-based strategies and policies. The Irish Research Council (IRC) is delighted to announce funding for 67 New Foundations projects that will reach communities across the country and beyond, focusing on diverse societal challenges and government policy issues.
43 projects are funded by the IRC to enhance research partnerships with civic society organisations. Through these partnerships with researchers, diverse community organisations will attain new evidence and insights to enhance their services and their impact.
This new Project named D8Dash will engage in citizen science research to create a community-focused, interactive, and open-source data dashboard that will help inform local planning, decision-making, and investment with respect to health and environmental issues.
See the IRC announcement here