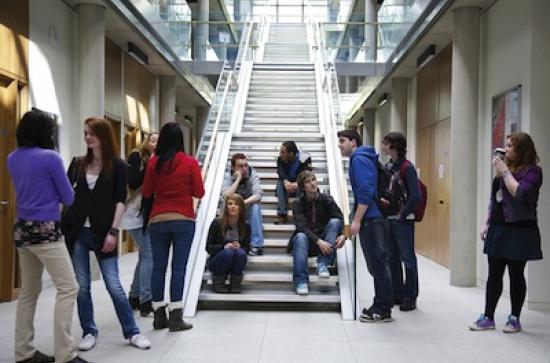 Wednesday, July 8, 2020 - 12:15
Maynooth University has received its highest-ever number of applications for admission in September 2020. More than 15,000 applicants have applied to the University, according to figures released today by the Central Applications Office (CAO). This figure demonstrates the growing numbers choosing Maynooth University as a university of choice to undertake undergraduate study. The University plans to admit in excess of 3,000 students in the coming year.
The increases in applications are noteworthy in areas such as Business (21%), Psychology (20%), Law (9%) and Biological & Biomedical Sciences (5%). Maynooth's Bachelor of Arts degree continues to be the most popular course in the CAO, attracting more applications and first preferences than any other CAO course.
There has also been strong interest in the new BSc in Biological and Geographical Sciences degree, which offers students the opportunity to study various areas of climate change, ecosystems, landforms, and how human activity impacts our ecosystem locally and globally. The new BSc is offered by two academic departments of international repute.
Maynooth University marked another important milestone recently when it was named among the Top 50 Young Universities in the World, climbing seven places to the position of #43 this year from #50 in 2019. The Times Higher Education (THE) ranking is the highest position achieved by an Irish university this year.
Speaking about today's CAO announcement, Prof Philip Nolan, President of Maynooth University, said: "Today's CAO figures, along with Maynooth University's unique position as the highest ranking Irish university in the Top 50 Young Universities in the world, are indicators of the successful steps the University took to offer students an extraordinary level of flexibility and control over their educational experiences. Maynooth University offers students the kind of education that will equip them with the critical skills and ability to adapt to today's rapidly changing job market.
"We look forward to welcoming our new students for the academic year 2020/2021. In choosing Maynooth University, they will join one of the leading universities in the world, with strong international connections and a lively, dynamic and rapidly-growing campus.
Prof Nolan added: "Our recently unveiled plans for a new Student Centre provides a unique space for student life that underlines Maynooth University's reputation for offering an outstanding student experience, a strong sense of community, and a rich social and cultural life."
Maynooth is Ireland's fastest growing university with more than 13,000 students, including 1,600 taught postgraduate students and more than 400 research students.

ENDS

About Maynooth University
Maynooth University is ranked in the top 50 global universities under 50 years old, achieving a ranking of #43 worldwide, and #1 in Ireland, in the latest Times Higher Education (THE) Young University Rankings. Tracing its origins to the foundation of the Royal College of St Patrick in 1795, Maynooth University was formally established as an autonomous university in 1997. Maynooth is Ireland's fastest growing university with more than 13,000 students, including almost 1,600 taught postgraduate and professional students and over 400 research students.