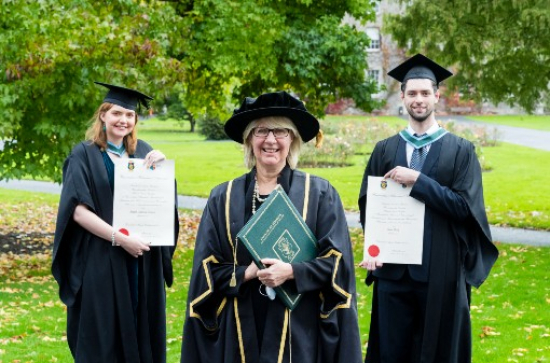 Wednesday, October 27, 2021 - 12:30
Maynooth University President Eeva Leinonen has congratulated over 800 new graduates who are being awarded undergraduate and postgraduate degrees and diplomas over two days this week – Wednesday 27th and Thursday 28th October.
The occasion marks the first conferring ceremonies for new President, Professor Eeva Leinonen, as well as the first on-campus conferring since the introduction of Covid-19 restrictions.
In her conferring speech, Professor Eeva Leinonen paid tribute to the graduates as they embark on their new journey, and saluted their accomplishment during a particularly difficult time.
"Moments like this can pass all too quickly, and their true meaning and full importance can slip past us unconsidered. Let us not let that happen, as your achievements are simply extraordinary, and even more so given the context in which you have completed your studies, a global pandemic, that has changed many of our lives beyond recognition. You have all shown most extraordinary resilience, creativity and humanity," Prof Leinonen said.
"I was in Australia, with no Covid in the community, for the past 18 months. I was in awe, hearing what you went through. What touched me most was the spirit in which you confronted the challenge. You looked out for your loved ones, you looked after others in your community. This is a very special thing about Ireland, your community matters and you look after each other. It is something to be truly cherished. I urge you, as you venture from our beautiful campus, do hold onto that sense of empathy for one another. It will stand you well."
A total of 823 graduates are receiving their parchments in the Aula Maxima across a range of undergraduate and postgraduate degrees and diplomas. In total, just over 337 degrees and 190 diplomas are being conferred. Additionally, 254 Master's degrees and 17 Doctorates are being conferred across five ceremonies. All ceremonies are being live-streamed for those who are unable to attend.
The occasion marks the first conferring ceremony for four new programmes offered, including a Postgraduate Diploma in Business Analytics, a Master of Social Science (Social Work), a Postgraduate Diploma in History, and a Postgraduate Diploma in Higher Education, Teaching and Assessment, which is open to staff of the University.
Graduates of the Class of 2020 and 2021 conferred in virtual ceremonies hosted by the University will be invited back to the campus for an in-person ceremony with family and friends in late January 2022.