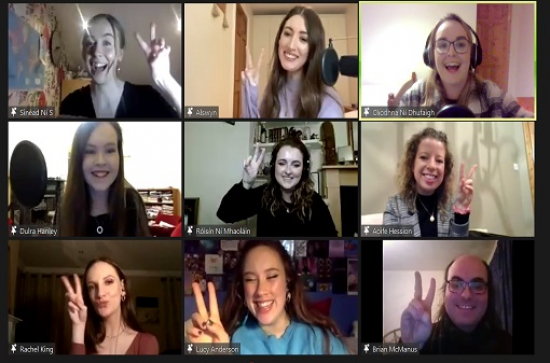 Friday, April 9, 2021 - 16:15
Cheiliúraigh muintir Ollscoil Mhá Nuad Seachtain na Gaeilge 2021 i mí an Mhárta le clár imeachtaí fíorúil den chéad uair riamh mar gheall ar na srianta leanúnach a bhaineann leis an bpaindéim Covid-19. Cé gur talamh úrnua a bhí ann d'Oifig na Gaeilge, do Chuallacht Cholmcille agus d'Aontas na Mac Léinn, bhí an-rath ar na himeachtaí a cuireadh in eagar ón Luan 8 Márta go dtí an Aoine 12 Márta ar árdáin éagsúla ar líne. Dhírigh muintir Chuallacht Cholmcille, faoi stiúir Uachtarán na bliana seo Conchúr Ó Luadhóg, ar réimse leathan d'imeachtaí a chur in eagar i gcomhpháirt le cumainn agus clubanna eile na hOllscoile, lena n-áirítear an Club Lúthchleasaíochta, an Cumann Tae, an Cumann Ceoil agus an Cumann Meabhairshláinte. Dá páirt féin, dhírigh Oifigeach na Gaeilge agus Gnóthaí Cultúrtha le hAontas na Mac Léinn don bhliain seo Sinéad Nic Giobúin ar sheisiúin a reachtáil do mhic léinn ar bheagan Gaeilge agus do bhunthosnaitheoirí ón tír seo agus ó cheann ceann an domhain.
Mar chur chuige don bhliain eisceachtúil seo, chuir Oifigeach na Gaeilge Brian Mac Maghnuis an-bhéim ar ghaiscí Gaeilge atá bainte amach acu siúd a bhfuil dlúthnasc acu le hOllscoil Mhá Nuad agus bhí idir ghaiscí liteartha agus ghaiscí sna meáin i gceist. Ag tús Sheachtain na Gaeilge, tháinig Oifig na Gaeilge le chéile le Leabharlanna Chill Dara in athuair don chéad eagrán eile den Tolg Liteartha, imeacht ina bpléann scríbhneoirí aitheanta a gcuid saothar leis an Ollamh le Gaeilge in Ollscoil Mhá Nuad an Dr Liam Mac Amhlaigh. Tugadh cuireadh do Ghaeilgeoirí a raibh Ollscoil Mhá Nuad fíor-thábhachtach dóibh ina saolta gairmiúla mar acadóirí agus ina gcuid forbartha mar scríbhneoirí chun dul faoi agallamh le Liam faoin saothar is déanaí uathu a cuireadh i gcló. Labhair an Dr Tadhg Ó Dúshláine, iarléachtóir le Roinn na Nua-Ghaeilge in Ollscoil Mhá Nuad, ar a chnuasach filíochta Mo Ghrá-sa, labhair an Dr Marie Whelton, a rinne staidéar ar an nGaeilge ar feadh na mblianta linn, ar a húrscéal do fhoghlaimeoirí fásta Leathbhádóirí agus labhair Eoin P Ó Murchú, atá ag tabhairt faoi dhochtúireacht sa Ghaeilge san ollscoil faoi láthair, ar Tinte na Farraige Duibhe, a aistriúchán Gaeilge ar úrscéal ficsean-eolaíochta a scríobhadh i nGaeilge na hAlban. Is féidir breathnú siar ar eagrán Sheachtain na Gaeilge 2021 den Tolg Liteartha ó thús go deireadh anseo: https://vimeo.com/521800626.

Agus ansin ar an Déardaoin, mar bhuaicphointe na Seachtaine, ghlac ochtar cairde ar a nglaoitear na Gaelgals go croíúil le cuireadh ó Bhrian in Oifig na Gaeilge chun filleadh ar a n-alma mater le taifeadadh beo a dhéanamh ar a bpodchraoladh nua iontach, Podchraoladh na Gaelgals, a bhfuil an-éileamh air cheana féin tar éis dó tosnú díreach roimh an Nollaig. D'fhreastail chuile dhuine de na Gaelgals ar Ollscoil Mhá Nuad, an áit inár chuir siad aithne ar a chéile ar an gcéad lá riamh i measc phobal Gaelach an champais, agus ba mhór an pléisiúr é don slua a bhailigh le chéile ar Zoom éisteacht leo ag caint ar na laethanta geala a chaitheadar ar champas mar chuid de Chuallacht Cholmcille. D'éirigh leo dhá eagrán den phodchraoladh a thaifeadah ar an oíche. Sa chéad eagrán, "Coiste na Cuallachta and the Cófra of Secrets", phléigh Róisín, Lucy, Aoife agus Rachel de chuid na nGaelgals na cuimhní is fearr atá acu óna dtréimhse leis an gCuallacht ó Bhál na Gaeilge go dtí an cófra rúndiamhaireachta i Seomra na Gaeilge agus an méid a aimsíodh ann. Sa dara heagrán, "Tapaigh an Deis: Cumann Gaelach Edition", phléigh Dúlra, Clíodhna, Alswyn agus Sinéad de chuid na nGaelgals an fhoghlaim agus an fhorbairt go léir a bhain lena dtréimhse leis an gCuallacht agus conas mar atá sí tar éis teacht i gcabhair orthu, ó thaobh na Gaeilge de agus go ginearálta, agus iad ag tabhairt faoin saol mór i ndiaidh na hollscoile. Is féidir éisteacht siar ar na heagráin speisialta seo de Phodchraoladh na Gaelgals anseo: https://podcasts.apple.com/ie/podcast/podchraoladh-na-gaelgals/id1541744334?i=1000516195775.