Welcome. The Philosophy Department of Maynooth University strives to cover the Western philosophical tradition as a whole, from its beginnings in ancient Greece, through the medieval and modern periods, right into the twentieth and twenty-first centuries.
Departmental Vision. Philosophy questions prejudices and challenges the unexamined assumptions that pervade everyday life. However, in addition to its critical function philosophy also has a constructive one. Philosophy tries to generate answers to some of the 'big questions' that, sooner or later, arise in every human life: it is an ongoing search and the answers differ. Welcome to philosophy!
LEAGAN GAEILGE

Fáilte. San am i láthair, féachann Roinn Fealsúnachta Ollscoil Mhá Nuad le plé a dhéanamh ar thraidisiún fealsúnachta an Iarthair ina iomláine, idir a thús sa tSean-Ghréig, thréimhsí na Meánaoise agus na Nua-aoise anuas go dtí an fichiú haois agus an t-aonú haois is fiche féin. Tá saineolas ar leith ag lucht na Roinne ar smaointeachas na Meánaoise agus an Renaissance, ar thaobh amháin, agus ar fhealsúnacht chomhaimseartha na Mór-Roinne ar an taobh eile.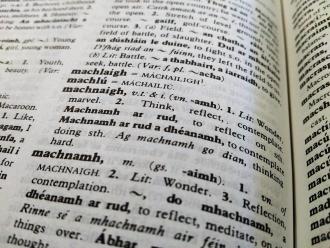 Fís na Roinne. Is tionscnamh míshuaimhneach í an fhealsúnacht ar uairibh, ina dtugtar dúshlán don réamhchlaonadh ionas go lorgóidh an duine freagraí níos fearr ná na tuiscintí gan cheistiú a fhaightear go hiondúil sa saol laethúil. Mar sin féin, má tá feidhm chriticiúil ag an fhealsúnacht, tá feidhm chuiditheach aici fosta. Féachtar san fhealsúnacht le freagraí a thabhairt ar chuid de na 'ceisteanna móra' a chastar orainn luath nó mall i saol an duine. Is é atá san fhealsúnacht, mar sin, lorgaireacht na gaoise maidir le bunphrionsabail shaol an duine agus na réaltachta. Mar is dual don lorgaireacht, is lorgaireacht leanúnach í seo. Ní hionann na freagraí a thugann siad. Sin agat an fhealsúnacht, fáilte romhat isteach!