The Assisting Living and Learning (ALL) Institute has a central mission: to enable people across their life course - especially those who have been marginalized - to fully participate and be included in society. Our research promotes human rights-based and person-centred systems, evidence-based policies, and laws, as well as the development and application of appropriate technologies that empower people and enhance social inclusion.

Last year Maynooth University was listed for the first time in the Times Higher Education Impact Ranking. This ranking assesses the performance of universities against the United Nations' Sustainable Development Goals (SDGs). The University was placed in the top 200 universities in the world and performed strongly: Maynooth was ranked 1st in Ireland and 49th in the world for Quality Education, and in the top 3% universities globally for its research on social inequalities, policies on discrimination and commitment to recruiting staff and students from under-represented groups. Maynooth University was placed 2nd in Ireland and 34th globally for Gender Equality.

In ALL we pride ourselves on contributing to the UN SDGs and to the profile of the University in this area. We asked ALL members to complete a survey created in line with THE Impact Survey, identifying where their work aligns with the UN SDGs in 5 broad areas – education, policy, engagement, research, and funding.
Questions were posed under the following headings: Development and Delivery of Education Programmes, Policy development, Partnering with NGOs, Research and Evaluation projects, and Grants or Funding.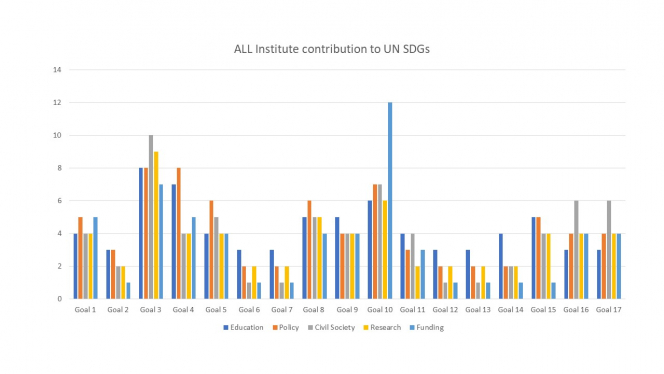 To read a summary of our report see here:
Read the full report based on the findings of the survey here:
pdf format.