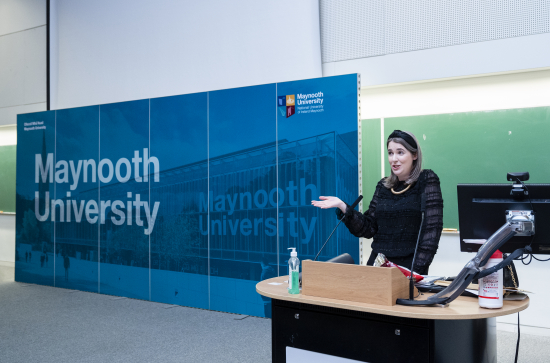 Thursday, August 25, 2022 - 15:15
Dr Holly Foley, ALL Institute member and Project Manager for the STEM Passport for Inclusion Project, will be the Universal Design for Learning lead for Maynooth this year. Booking is now open for Maynooth staff (you don't have to be teaching/lecturing).

This Oct-Dec, AHEAD and UCD Access & Lifelong Learning are teaming up again to jointly deliver a national roll out of the Digital Badge for Universal Design in Teaching and Learning – a 10-week, 25-hour introductory Universal Design for Learning (UDL) programme for HE and FET staff.

This free digital badge course, hosted by the National Forum for the Enhancement of Teaching & Learning, will provide participants with a strong introduction to the UDL Framework and give you the opportunity to implement UDL approaches within your teaching activities.

This national roll out offers participants an exciting chance to build flexibility and choice into their teaching practice and connect with a growing community of UDL practitioners across the country.

When: Oct 3rd - Dec 12th
Time Involved: Approx. 25 hours over 10 weeks, roughly 2.5 hours per week. Optional 5-hour add-on for participants interested in rolling this open course out to colleagues in the future. Webinars are recorded and meetings are scheduled around your timetable so all aspects of the course can work around your schedule.
Cost: FREE but places are limited and in high demand so act fast.

As a previous digital badge graduate and registered facilitator of this badge myself, I have committed to support this major national roll out as a Peer Group Facilitator, organising small local groups of peers to work together throughout the course on group activities and brainstorming. Having previously done this course myself, I would highly recommend it and found that it gave me a deep understanding of the need for UDL to be embedded within HE.

You can find out more information about how the course operates and what is involved here.
Places for this course are always in huge demand, but because of my role as a Peer Group Facilitator, Maynooth University has secured a guaranteed 50 places which can be pre-registered through this link: www.eventbrite.ie/e/395876736977/?discount=MaynoothUniversity before the general registration opens on Aug 22nd.

Should you find the Maynooth reserved places already booked, you can seek to reserve a place through the general signup from Aug 22nd onwards.
Useful Links
Special pre-registration link for Maynooth University staff: www.eventbrite.ie/e/395876736977/?discount=MaynoothUniversity – open now!
General course information and signup page
What is UDL – AHEAD webpage
6 x 10 min videos – previous badge participants their UDL implementations as part of the badge.