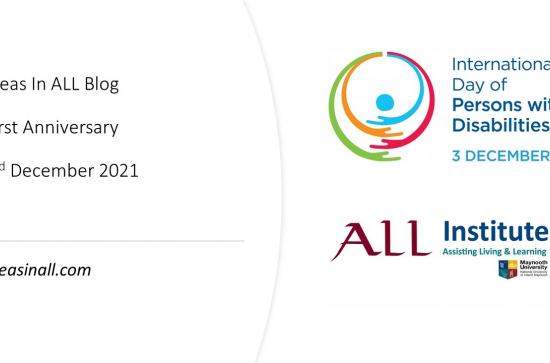 Friday, December 3, 2021 - 15:00
Today, 3rd December 2021, the ALL Blog: Ideas In ALL, is celebrating our First Anniversary! Once again coinciding with the UN International Day of Persons with Disabilities 2021.
To celebrate we have arranged a virtual symposium of various posts commemorating International Day for Persons with Disabilities, across a variety of disciplines.
The First Anniversary Symposium is thanks to our wonderful new editorial board - Lea Urzel, Hannah Casey, Matthew McKenna, Managing Editor Anastasia Campbell and our Blog Director Professor Delia Ferri
A huge thanks to our contributors who produced fantastic posts and we are so grateful to be able to host such a wonderful collection of posts to mark our Anniversary and the International Day of Persons with Disabilities.
"Exactly one year ago, on 3 December 2020, in the midst of the second wave of the Covid-19 pandemic, we launched "Ideas in ALL": The New Blog of the ALL Institute, as another way in which the Assisting Living and Learning (ALL) Institute seeks to contribute to approaching our most ambitious goal: the creation of a fairer and more inclusive society for all. In 2020, at a difficult and grim time, we felt that it was important to foster a dialogue on empowering people living with a disability or chronic illness, older people, or those marginalized from the benefits of mainstream society.
Over the past year, the month-to-month growth of users has increased by 257.1%. People from all around the globe engaged with the blog. We had readers from Ireland, United Kingdom, United States, Canada, Netherlands, Finland, Italy, Austria, France, Italy and China among other countries (Figure 1). While we feel this is a fantastic achievement, we aim to further broaden the reach of the blog. The growth in the last period has been significant. Ideas in ALL has increased new users by 94% in the last month, and page views are up 459% compared to the last 30days. In the last quarter, there has been a 288.89% increase in visitors to the site.
With the new editorial board, we have prepared a special surprise for our readers and we have published a Symposium on the Rights of Persons with Disabilities on occasion of the International Day of Persons with Disabilities. "
See more here: https://www.ideasinall.com/category/symposium/
Delia Ferri is Professor of Law at Maynooth University Department of Law and Co-director of the ALL Institute.
Anastasia Campbell acts as Managing Editor for the Ideas In ALL Blog. She is currently Administrative Lead of the ALL institute
Matthew McKenna is a PhD Candidate at the Assisting Living and Learning (ALL) Institute at Maynooth University whose research is funded by the Science Foundation of Ireland (SFI) Centre for Research Training in Advanced Networks for Sustainable Societies (ADVANCE CRT).
Léa Urzel is a PhD Candidate at the Department of Law within the remit of the DANCING research project (Protecting the Right to Culture of Persons with Disabilities and Enhancing Cultural Diversity through European Union Law: Exploring New Paths), funded by the European Research Council
Hannah Casey is a PhD Candidate in the Department of Psychology. Her PhD research investigates the facilitation and execution of Supported Decision-Making in an Irish context.