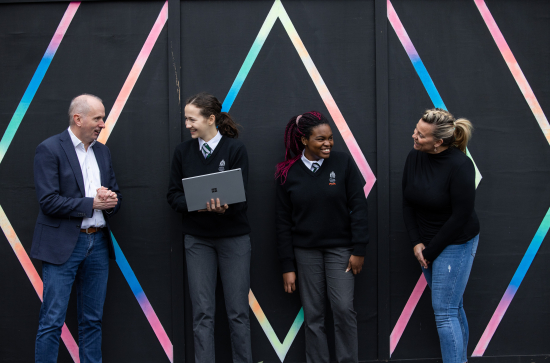 Tuesday, March 8, 2022 - 14:45
The STEM Passport for Inclusion project, led by Dr Katriona O'Sullivan, Assisting Living and Learning (ALL) Institute and Dept of Psychology lecturer, has been included in the Minister for Education Norma Foley, Recommendations for National Implementation by the Gender Balance in STEM Education , published today, International Women's Day 2022.
The STEM Passport for Inclusion aims to change the future of STEM by ensuring that young, working-class women, are STEM prepared. We do this by providing accredited education opportunities and STEM Mentoring to girls across the Irish school system.
The STEM Passport for Inclusion has three core priorities
Ensuring equal access to the STEM skills so that all of society have opportunities to engage in meaningful employment
Ensuring that these STEM skills support equal participation in society, allowing people to understand the value of being part of the digital society
Building STEM knowledge to support a meaningful life.
Since January 2021 STEMP has worked with 480 girls, from underserved communities across Munster and Leinster. They have participated in a newly developed university accredited module in STEM skills and built meaningful relationships with a 124 woman who works across STEM. STEMP has reached 28 schools from across Munster and Leinster so far, and the young women participating in Munster can use their accreditation to receive a 50 Leaving Cert point bonus to use for application to
Munster Technological University (MTU)
STEM courses.
Results of the longitudinal research programme have revealed significant increases in girls' intention to study and work in STEM and increases in the confidence to study and work in STEM. Over 80% of students report being confident to work in STEM after participating in the programme, while 76% report intention to pursue a career in STEM due to their experience on the STEM Passport for Inclusion.

"Recommendation 12: A pilot programme, STEM Passport for Inclusion, led by National University of Ireland, Maynooth, will recognise the experiences of girls from DEIS schools as they achieve micro-credentials in STEM, through mentoring and engagement with STEM content knowledge. The Advisory Group recommend engaging with this programme to assess its impact, with the potential to recommend further scaling of the programme if it is successful in its mission to break down barriers to girls in STEM." (Page 8)

Dr Katriona O'Sullivan of Maynooth University's
ALL institute
and the
Dept of Psychology
is Principal Investigator on this programme, she says 'we are delighted to have the STEM Passport for Inclusion endorsed by the department, while Maynooth leads this project the success of this work is due to the partnership approach taken across the STEM ecosystem. Our University partner, Munster Technological University, our Industry partners, Microsoft Ireland,
DreamSpace
,
Accenture
and the
RDI Hub
leading the change, alongside
TeenTurn
and our internal team in the
Department of Computer Science
, the
Maynooth Access Office
and the Office for the
VP for Equality, Diversity and Inclusion.
The vision comes from working together to solve the challenges young working class girls face in navigating STEM. Science Foundation Ireland Discover programme funded this work and our vision now is to turn this into a national TY programme which ensures every girl across Ireland graduates school with a STEM qualification they can use to participate fully in society.