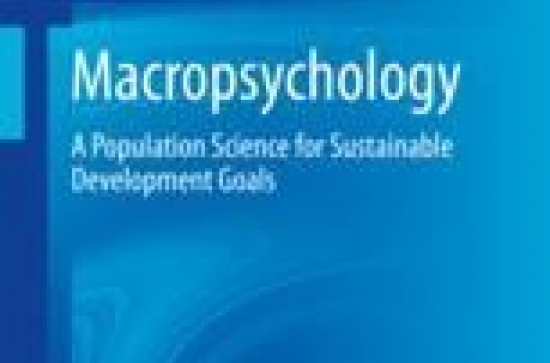 Thursday, April 15, 2021 - 13:00
New edited book published by ALL (Assisting Living and Learning) Institute co-director Prof Mac MacLachlan and ALL member Dr Joanne McVeigh entitled, 'Macropsychology: A Population Science for Sustainable Development Goals'.
Introduction
This volume argues for the development of a macro perspective within psychology that more effectively incorporates social structures, systems, policies, and institutions. The book emphasizes how social structures and systems can ultimately promote, or erode, psychological wellbeing. Macropsychology is concerned with "understanding up," or how we can influence the settings and conditions of the society in which we live. Psychology has traditionally been more interested in "understanding down," that is, with the behaviour of individuals and groups; in inter-psychic and intra-psychic and in neurological and biological processes.

This volume argues that psychology can more effectively contribute at the macro or societa level, by addressing grand challenges and global goals, using big data, and intervening at the population level.Bringing together social, organizational, cultural, and health psychology research, the book demonstrates a broad range of areas benefitting from a macropsychology perspective, particularly areas integral to the realization of the Sustainable Development Goals (SDGs).
Contributors address the value of macropsychological perspectives in addressing sub-topics such as:
Mental health
Personality traits and social structure
Disability rights
Food systems
Humanitarian work psychology
Macropsychology: A Population Science for Sustainable Development Goals aims to recognise and give impetus to a neglected perspective within psychology, and to inspire a paradigm-widening within the field of psychology, facilitating greater involvement with social justice and human rights.
See more here: https://link.springer.com/book/10.1007%2F978-3-030-50176-1#about