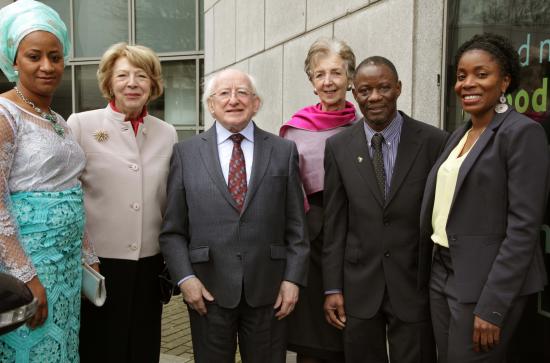 Tuesday, February 24, 2015 - 00:00
Interfaith Prayer Service
In solidarity and support of the victims and survivors of the Ebola virus
On Saturday Feb 21st the Liberia Solidarity Group and the Sierra Leone Ireland Partnership held an Interfaith Service to reflect on the consequences of the Ebola Crisis in West Africa, remember the victims and those who are left behind.
The attendance of over one hundred people including Guest of Honour, President Michael D. Higgins and Mrs Higgins, members of the Liberia Solidarity Group the Sierra Leone Ireland Partnership, people from Liberia and Sierra Leone, and others who have lived and worked in the area.
The Liberia Solidarity Group Ireland (LSG) was founded by staff and students from the Department of Applied Social Studies which has worked with projects and initiatives in Liberia over the past decade.
LSG is dedicated to the creation of a mutual learning partnership between Ireland and Liberia which promotes justice, peace, equality and human rights through collective action and sustainable development. We support those working to achieve these goals through education, enterprise and community development activities, including actions that promote or enhance the status of women.
Ebola Crisis
The current outbreak in West Africa, where the first cases were flagged in March 2014, is the largest and most complex Ebola outbreak since the virus was first discovered in 1976. With almost 25, 000 suspected cases and 8,600 lives claimed in the region, this Ebola outbreak has seen more cases and deaths than all others combined.
The most severely affected countries, Liberia, Sierra Leone and Guinea, having only recently emerged from long periods of conflict and instability, have very weak health systems, lacking human and infrastructural resources. This structural instability exacerbated the crisis and means that its repercussions will have on-going impact on the health and well being of communities across West Africa, particularly those who are most vulnerable.#