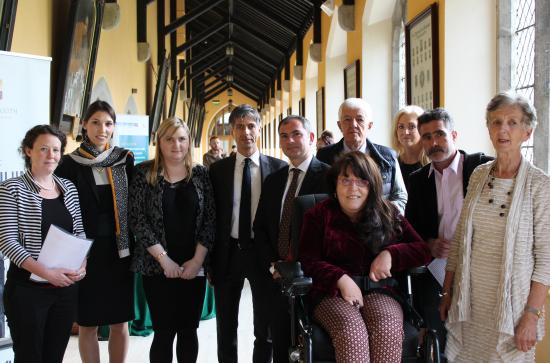 Monday, April 27, 2015 - 17:00
Co-hosted by the Centre for Rights, Recognition & Redistribution, Department of Applied Social Studies and Department of Law at Maynooth University, over 100 people from Traveller, and civil society organisations, government and local authorities came together on April 20th to explore issues and concerns for minorities in Ireland and globally with the foremost international experts in the field and dialogue with those directly concerned.

The international law approaches provided by the keynote speakers, together with contributions from local Traveller leaders, academics and community work practitioners, sparked a stimulating discussion on the current challenges Ireland, like many other states, is facing.

Anastasia Crickley, Head of the Department of Applied Social Studies, called on the Irish government to respect Travellers right to be acknowledged as a minority ethnic group in Irish society without further delay. "All the international conventions, including UN Convention on the Elimination of all forms of Racial Discrimination and the Council of Europe's Framework Convention on National Minorities, have recommended government action on this matter and it is again an issue for Ireland's upcoming examination by the Committee for the Covenant on Economic, Social and Cultural Rights. This is a matter of respect and dignity" she said, noting that "Persistent denial reinforces discrimination".

Prof Patrick Thornberry, global expert on minority rights and long-time member of CERD reminded us that "The protection of minorities requires that racial discrimination be combated energetically and effectively" and suggested that "Gandhi's claim continues to ring true: the way in which we treat minorities is the measure of civilisation of a society."

There will be a further opportunity to discuss these, and related, issues on May 18th next, when the Centre for Rights, Recognition & Redistribution at the Department of Applied Social Studies will host a conference to mark 50 years since the adoption of the International Convention on the Elimination of All Forms of Racial Discrimination. The conference will include contributions from a range of international and national human rights experts.