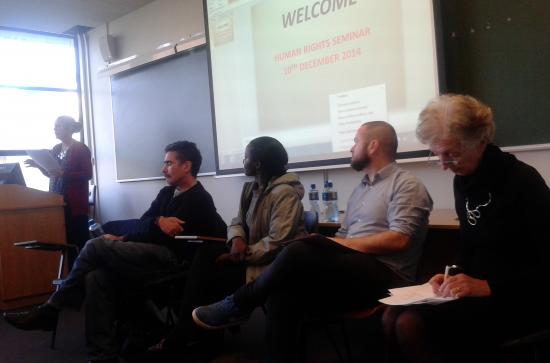 Friday, December 12, 2014 - 00:00
On the 10th of December 1948 the UN General Assembly launched the Universal Declaration of Human Rights and thus laid the foundation for much work on human rights across the globe.
To mark this day at Maynooth University, the Department of Applied Social Studies welcomed four Irish human rights advocates, who shared their experiences of working locally and globally to realise the rights of some of the most pervasively discriminated groups in society.
Martin Collins of Pavee Point described how Travellers in Ireland have engaged at European and global level, in solidarity with other groups who have experienced similar exclusion.
Rachel Doyle of the National Womens Council reflected on the ongoing denial of Irish womens reproductive rights.
Michael Barron of BeLonGTo highlighted the importance of a society that values the human rights of its diversity of citizens in fostering a more inclusive Ireland.
Sylvia Mbasinge, a woman still living in the Direct Provision system after nine years powerfully described the impact on adults and children of this systemic restriction on basic human rights.