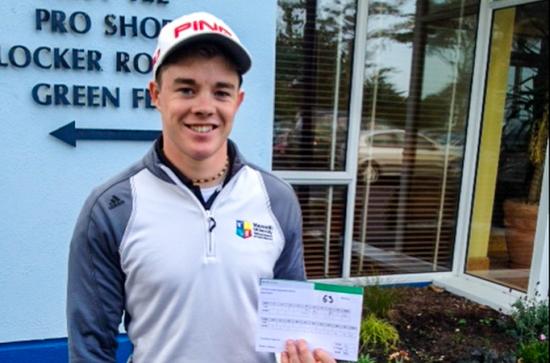 Wednesday, November 4, 2015 - 23:00
Round 1 - Wednesday November 4th
Maynooth University's men's and women's golf scholars got off to a flying start on day one of the Irish Intervarsity Championship at Rosslare with ten players firing sub par rounds.
Irish International Stuart Grehan (2nd Entrepreneurship) stole the show on day one firing seven birdies and an eagle on route to a superb round of 63 (-9) a new course record at the sunny south east venue. Grehan, a double Irish major championship winner last summer recorded eight '3s' on his card and remarkably missed birdie chances coming home at 14,15,17 & 18 stating
"It could have been 61 easily"
Grehan is certainly in form having just broken the course record at New Forest Golf Club firing 65(-7) only a week ago competing in the midlands winter alliance. Grehan leads by four shots from fellow Irish Internationals Alex Glesson (UCD) 67(-5) the defending champion and teammate Robin Dawson (2nd Equine Business) 67(-5). A host of Maynooth players make up the chasing pack in the top ten places; Eugene Smith (1st Arts) 69(-3) T4th, James Sugrue (1st Arts), Ronan Mullarney (2nd Business Management) 70(-2) T6th, Jordan Hood (1st Astro Physics), Kyle McCarron (2nd Arts), Gary Ward (1st Product Design) and Liam Grehan (2nd Arts) 71 (-1) T9th,
Men's scores available HERE
Maynooth equally had a strong start in the women's event with Shannon Burke (2nd Arts) posting a 71(-2) to lead by two strokes from teammates Shannen Brown (3rd Arts) and Molly Dowling (1st Arts) both posting 73's (level). Gemma McCarthy is a further two shots back after a 75(+2) T4th with Meadhbh Doyle shooting 76(+3) T6th.
Women's scores available HERE
Media
GUI - Day 1: Irish Intervarsity Championship - Day 1 "Grehan in command after glorious 63"