Friday, November 21, 2014 - 00:00
In order to celebrate ELSA Day, ELSA Maynooth is going one step further and organising an entire week devoted to raising awareness of human rights issues among the student and general community body of Maynooth University: ELSA Maynooth is hosting Human Rights Week from 24 - 28 November 2014. A host of speakers with expertise in various aspects of human rights law will speak throughout the week, including representatives of Amnesty International and the Irish Penal Reform Trust.
ELSA Maynooth will also host a screening of the Oscar-winning film, 12 Years A Slave, and a charity bake sale; as well as disseminating pamphlets across campus which highlight the ELSA International Focus Programme (Media Law) and ELSA Day, and give an overview of human rights issues and milestones in Ireland. This pamphlet can also be viewed online; it contains the full schedule of events for the week.
On top of all of this, ELSA Maynooth will also award one of its members with a prize for attending the most events and for being the most enthusiastic throughout the week. Link to Facebook event.
ELSA is the European Law Students' Association, the world's largest independent law students' association. ELSA Maynooth is a Local Group of the ELSA Network, which is comprised of 42 countries throughout Europe.
Maynooth University Department of Law is very happy to support ELSA Maynooth. Read more about our students' activities and societies on our website.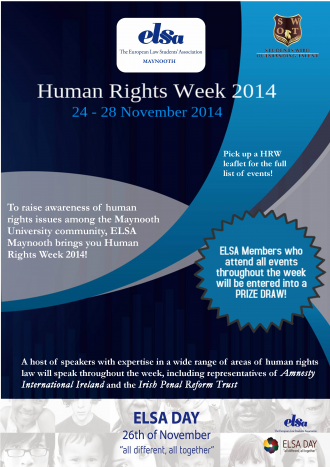 ​