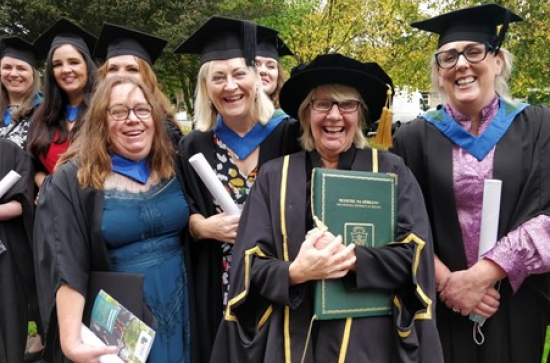 Thursday, October 28, 2021 - 17:45
Congratulations to the graduates of the Higher Diploma in Further Education who graduated on the 27th of October, 2021, Maynooth University Autumn Graduation. They were delighted to share a photo with the new Maynooth University President Prof. Eeva Leinonen.
The graduates, Allison Keane, Amy Farrell, Anthony Gartlan, Arthur Kearns, Avril Cox, Brendan Finan, Caroline Morrin, Cathriona Glancy O`Shea, Clare Doyle, Colette Mullen, David Brennan, Eleanor Molloy, Emma Plunkett, Jacqueline Devine, Jean Young, Jemma Nolan, Jennifer Smith, Karen Murray, Laura McClelland, Lisa Hennessy, Mairead Breen, Marie Forde, Mat Bashford, Melanie Alken, Michael Sinclair, Niamh Byrne, Pauline Fordyce, Pauline Kehoe, Rory Conway, Sarah Brady, Sarah McCracken, Sunniva Rehill, Susan Mulligan, Susan Neill, Suzanne Brewer, and Terence Devine, will teach in a range of Futher Education post-compulsory education settings following the quality trend set by previous graduates since 2012-'13.
The course, MHA90, is open for applicants for the 2022-'23 academic year from November 1st. Enquiries to hdfe@mu.ie and information at https://www.maynoothuniversity.ie/study-maynooth/postgraduate-studies/courses/higher-diploma-further-education. The course team are Margaret Noone (Administrator), and Dr. Camilla Fitzsimons and Michael Kenny (academic Directors) in the Department of Adult and Community (DACE).