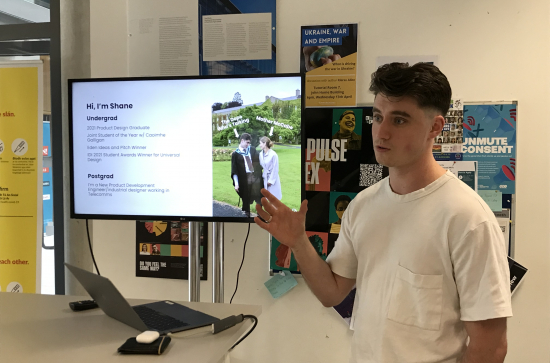 Thursday, June 2, 2022 - 14:45
Delighted to welcome our recent graduates of the BSc Product Design (Marketing and Innovation) back on campus to speak as part of our Design Innovation Degree Show 2022 Lunchtime Talks. Shane who won the IDI Student Award for Universal Design last year was today's speaker.
2022 Design Innovation Degree Show Booklet
Shane along with yesterday's speakers Harry French and James Leppla (pictured below) delivered really useful and impressive presentations to current students with lots of tips on preparing your portfolio for job applications, what to expect in your first year as a designer, and how to find and achieve your dreams as a Designer.

Please join us at our next two lunchtime talks in the Iontas Foyer for these important survival guides to your first year after University.
Friday @ 13:00 - Grace Hyland Martin and Doireann Peelo.
Tuesday @ 13:00 - Dean Meaney and Eilis O'Reilly.